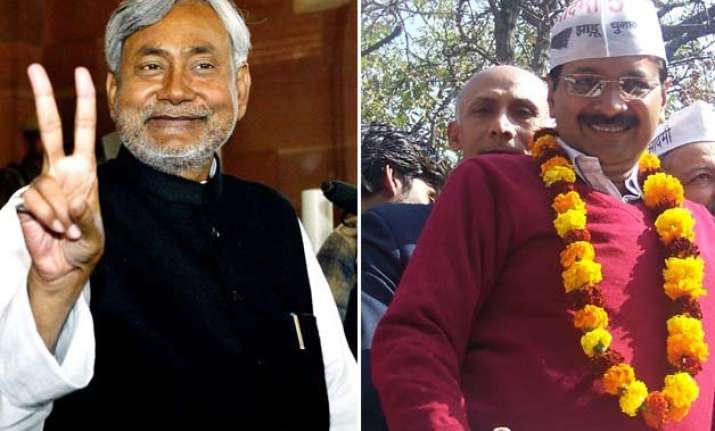 Patna: The fortnight-long drama in Bihar took a predictable twist when chief minister Jitan Ram Manjhi drove straight to Raj Bhavan to hand over his resignation, an hour before he was to face a trial of strength in the Assembly.
His sudden decision to quit caught his new ally BJP unawares, and Nitish Kumar smiled, for the first time in two weeks, when the Governor invited him to form a government on Sunday and prove his majority on the floor within three weeks.
In fact, Manjhi did a Charan Singh, the former Prime Minister of India, who resigned in 1979 without facing Parliament, after Congress led by Indira Gandhi withdrew support.  Charan Singh had then recommended dissolution of the Lok Sabha despite not having a majority. The then President Neelam Sanjeev Reddy accepted his recommendation and dissolved the Lok Sabha which was seen as unethical. This led to the return of Indira Gandhi to power after the 1980 LS polls.
 
Even the BJP legislators, who were acting as Manjhi's cheerleaders, were taken off guard by Manjhi's sudden change of mind. BJP was expecting Manjhi to make a passionate speech in the Assembly, explaining how Nitish Kumar insulted a 'Mahadalit' leader and did not allow him to work freely, before wearing the halo of 'political martyrdom' by submitting his resignation.
This would have reminded one of Atal Bihar Vajpayee, who similarly resigned minutes before facing a trial of strength inside the Lok Sabha in 1996. The plot suited the gameplan of BJP which hoped to expose Nitish Kumar's  pretensions of having a soft corner for Mahadalits.
 
Aware of his limited personal political appeal in Bihar given the miniscule presence of his caste men (Kurmi) in the state, Nitish Kumar tried to cultivate his own committed vote bank and he pinned his hopes on a section of less-privileged Dalits whom he termed as 'Mahadalits'. There are almost 21 different castes that now come under the broad "Mahadalit' category and they constitute around 21 percent of the total population of the state.
 
The BJP felt embarrassed but the party  has not given up hopes of benefitting from the revolt of Manjhi against Nitish Kumar. Manjhi, in all probability, will form a new political party and may form an alliance with the BJP ahead of Assembly elections in the state that will take place in October-November.
If all goes well according to BJP's plans, then the party may benefit from the addition of 'Mahadalit' votes to its traditional upper caste and OBC vote bank. In fact, it will give a distinct advantage to the new BJP-LJP-Manjhi-Kushwaha combine over the Lalu-Nitish-Congress combine.
 
But what if Manjhi makes a U-turn and joins hands with Nitish Kumar again? If Manjhi can ditch Nitish Kumar, the man who offered him the CM post on platter, what is the guarantee that he will not turn against the BJP?
The fact cannot be overlooked that Manjhi has not used any harsh word against Nitish Kumar except terming him as 'Bhishma Pitamah'. That's why the BJP is keeping its fingers crossed post-Manjhi's resignation.
 
Meanwhile, Nitish Kumar is trying to do a Kejriwal in the state. Politicians rarely apologise for their actions but it was Kejriwal who invented the politics of apology. He apologized for resigning within 49-days of taking the reins of power in Delhi in 2014 and the electorate of Delhi forgave him with open heart as was evident from AAP's spectacular victory in Feb 7 Delhi Assembly elections.
 
Modi's opponents see a ray of hope from the way Kejriwal has halted his juggernaut that seemed to be unstoppable prior to Delhi Assembly elections. Nitish too seems to have decided to follow Kejriwal to stop Modi from repeating his party's Lok Sabha performance in upcoming Assembly elections later this year.
 
But Bihar is a different ballgame altogether. Bihar's politics still remains caste-driven. If Mahadalits decide to put their weight behind Manjhi and BJP, things would become difficult for Nitish especially when there are already visible signs of chink in Lalu Yadav's Yadav and Muslim vote banks.
 
In the run up to Manjhi's failed tryst with the trust vote, two interesting developments unfolded. One was the revolt of Pappu Yadav, who came out openly in support of Jitan Ram Manjhi, defying the diktats of his party chief Lalu Prasad.
The second was the reported message conveyed by Siwan strongman Mohammed Shahbuddin to Muslim MLAs to support Manjhi and oppose Nitish at any cost. Even Sadhu Yadav, estranged brother-in-law of Lalu Prasad, had put his weight behind Manjhi.
 
If Pappu Yadav and Mohammed Shahbuddin maintain their anti-Lalu and anti-Nitish stand even during Assembly elections then it will add   to the headache of Janata Parivar which will again prove to be advantageous to BJP and Manjhi.
 
Moreover, it's Lalu Prasad who will claim the lion's share in both ticket distribution and government formation given the fact that he is tallest in terms of vote bank compared to Nitish Kumar.
 
Nitish Kumar is thus set to face problems galore after taking reins of power on Sunday and the political reality in Bihar may not permit him to do a Kejriwal in a state where people still vote in favour of their caste.