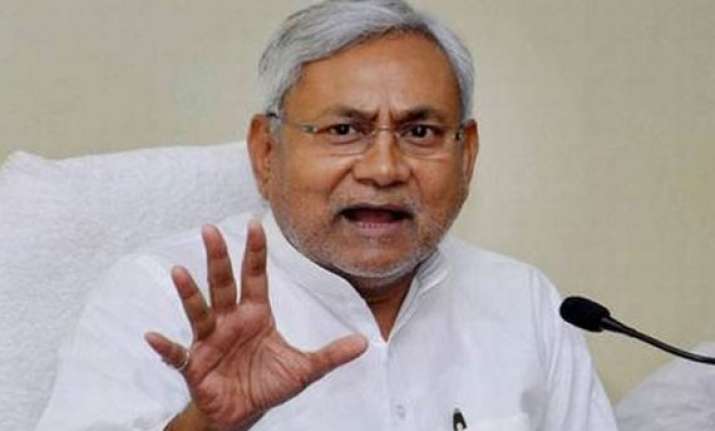 Patna: Buoyed by efforts to reunite 'Janata Parivar', senior JD (U) leader Nitish Kumar today appealed to the people to halt the 'Ashvamedh Horse' of the BJP when it comes to Bihar during the next assembly elections.  
"The Ashvamedh Horse (the horse set free by emperors during ancient India, who then conquered the land wherever it went) of the BJP is rolling on. It has to be stopped here in Bihar. Then only there could be welfare of the people in the state. You (the people) have to counter them," he said.  
Kumar was speaking before a capacity crowd that had gathered to attend a function organised by the 'mahadalit' cell of JD (U) to observe the 58th death anniversary of 'Babasaheb Bhim Rao Ambedkar' at Miller High School ground here.
Chief Minister Jitan Ram Manjhi, Food and Civil Supplies Minister Shyam Rajak, Rajya Sabha member Ali Anwar and several MLAs were also present on the occasion.  
"The way to stop the Ashvamedha horse is to remain united and exercise your precious vote in the assembly elections next year. The BJP will conspire to divide you, but you have to beware of these 'kanpunkwas' (rumour mongers)," said Kumar.  
"Humlog jaan ki baazi lagayenge aur samaj mein sampradayik sadbhav kayam rakhenge (We will risk our lives to protect communal harmony in the society). We want to take everybody together towards progress," Kumar added.  
Kumar, who would be the face of JD(U) in the crucial Assembly poll in the state next year, was speaking two days after a luncheon meeting of six parties at the residence of Samajwadi Party President Mulayam Singh Yadav at Delhi in which the SP chief was authorised to look for formalities to reunite old Janata Parivar.
The luncheon meeting at SP President house was attended by Sharad Yadav and Nitish Kumar JD(U), H D Deve Gowda (JD-S), Lalu Prasad (RJD), Kamal Morarka of Samajwadi Janata Party and representative of INLD of Om Prakash Chautala.  Bihar Assembly poll would face first test against a resurgent BJP in Bihar poll in later half of 2015.  
The former chief minister drew attention of people that the BJP had promised several things like removing unemployment and bringing back black-money during the Lok Sabha elections and captured power at the Centre, but then "forgot whatever it had said".
Kumar's speech was interrupted by a slogan shouting and placard-waving crowd of hundreds of 'tola sevaks' and 'talimi markaz'.
These are the people who work at village panchayat levels to help state government in its scheme of putting every child in school. They were demanding raising their retirement age to 60 years and salary to Rs 10,000.