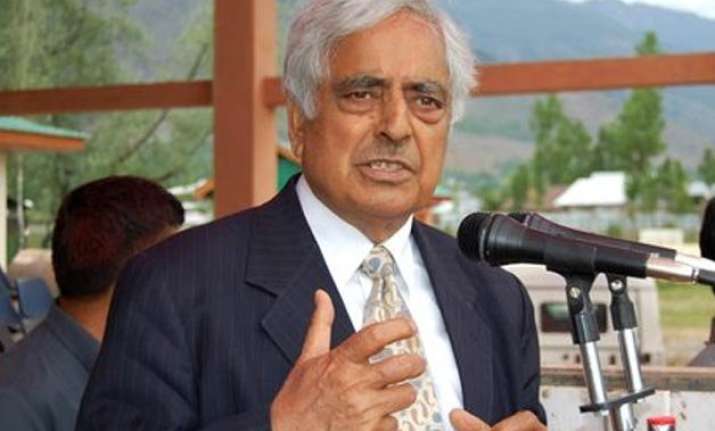 Jammu: Identifying tourism as one of the key priorities for the new government, Chief Minister Mufti Mohammad Sayeed on Wednesday highlighted the urgent need to develop state-of-the-art infrastructure and promote new destinations in the picturesque Jammu and Kashmir.
During an interaction with a delegation of Tour and Travel Associations of Kashmir, the Chief Minister, who also holds the Tourism portfolio, said there is an urgent need to create sufficient accommodation to meet the demands of incoming tourists in the Valley.
"Tourism will not develop unless it comes with the required paraphernalia. We have to be innovative in our thinking to make Kashmir valley a leading tourist destination in the country and abroad. Tented accommodation and building eco-cottages at tourist resorts is one innovative way to increase the low intake capacity," Sayeed said.
The Chief Minister asked the Managing Director, Jammu and Kashmir Tourism Development Corporation (JKTDC), Farooq Ahmad Shah to immediately undertake forceful marketing drives and FAM (Familiarity) tours to promote scenic destinations like Sonamarg, Kokernag, Daksum, Warwan and Dodhpathri so that visitors are able to explore the Valley beyond the well-known destinations like Gulmarg and Pahalgam.
"Nature has bestowed us with beauty in abundance. We have to take steps to utilise idle tourism infrastructure at these nature spots for which New Tourism Development Authorities were created when I first took over in 2002," he said.
Sayeed said the Tourism Development Authorities will be revitalized soon to focus on uniform spread of tourists across the Valley. Describing tourism as a binding force that joins several other key sectors like the famed handicrafts/handloom and food industry of Kashmir, the Chief Minister assured that tourism, will flourish in the days to come. "We see tourism and industry as areas where we have great potential to generate jobs for our skilled unemployed youth," Sayeed said.