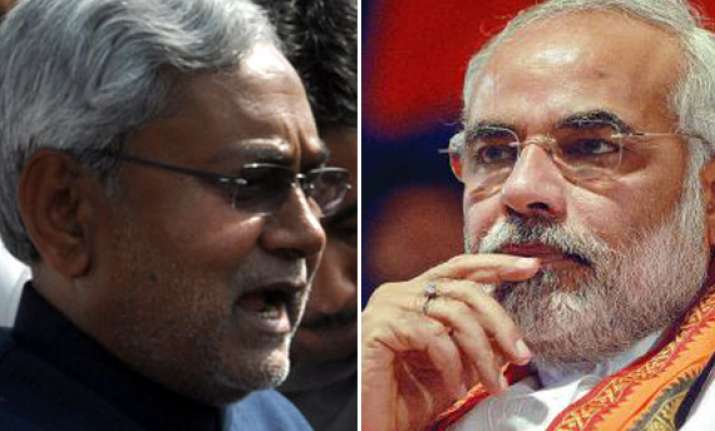 New Delhi, Jun 19:  Bihar Chief Minister Nitish kumar has made it abundantly clear that only a secular person would be acceptable to him as NDA's Prime ministerial candidate.
In an  interview to 'THe Economic Times', Nitish did not name Narendra Modi but left no scope for any  doubt that his party will walk out of the coalition if BJP tries to thrust Narendra Modi as NDA's PM candidate in 2014 elections.
" The leader of the coalition should have secular credentials and liberal frame of mind. In a multi religious and multi-lingual country like ours, the leader should not have rough edges," asserted Nitish.
Nitish wants NDA to declare its PM candidate before 2014  general elections so that people know who they are voting for. He gave example of 19996, 1998, 1999 and 2004 when Atal Behari Vajpayee was projected as NDA's PM candidate.
" Even in 2009, we had projected L K Advani as PM candidate," quipped Nitish.
Nitish took his opposition to Narendra Modi's candidature a step forward by saying that the NDA's PM candidate should be someone who feels for under-developed states and not someone who can develop already developed states.
As for his own prospects as NDA's PM candidate, Nitish said he is not in the race and that the PM should be from bigger party only.
Commenting on his alliance with BJP in Bihar, Nitish was emphatic that he enjoys good relations with state BJP leadership but he would not tolerance any external interference.
" I have cordial relationship with Bihar BJP. But if someone is bent on spoiling this relationship , I cannot help. External forces should not be allowed to intervene..
Responding to a question on his contribution to the economic growth of Bihar, Nitish gave a very well-thought and well-rehearsed reply," When I took over in Nov 2005, the only 'modern' equipment in the CM's office was a Remington typewriter. The state which functioned on a Remington typewriter won the e-gov award."