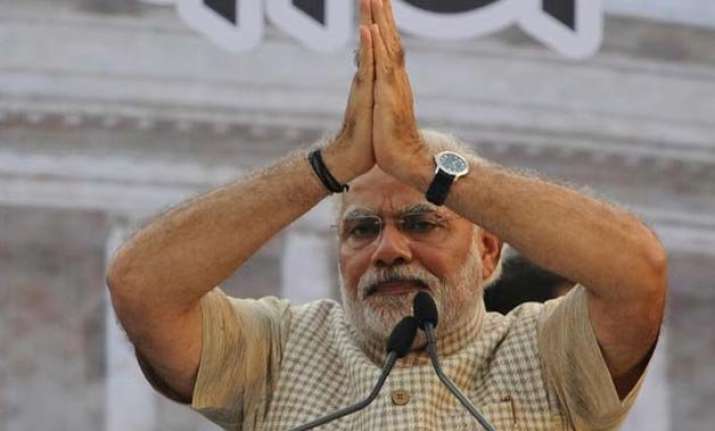 New Delhi: Today is the first anniversary of Prime Minister Narendra Modi's historic Lok Sabha victory.
It was May 16 of last year when the results of 16th Lok Sabha were declared and Modi-led NDA secured a historic win with 282 seats in general elections.
Soon after the verdict was put in public domain, Modi flocked to Vadodara, one of the two seats which he contested and won, to deliver his first public speech as the triumphant leader.
Today i.e. May 16, 2015, exactly one year after the results, Prime Minister Narendra Modi, who is on a three-nation tour, addressed people in Shanghai where he once again thanked the people for showing their faith in him.
Let's compare his two speeches delivered on May 16, 2014 and may 16, 2015 respectively:
May 16, 2014 - Vadodara
Good days are coming and from today for next five years, the journey has started.
Vadodara has given me a margin of 5.70 lakh votes even after I spent only 50 minutes after filing nomination here.
In Varanasi, people have put a stamp on my silence," an apparent reference to refusal of permission to address a meeting in the temple town.
Gujarat has created history by giving all the 26 seats to BJP.
First time after independence a non-Congress party has been given majority on its own in the current elections.
With all and development for all will be my government's motto and not an empty slogan.
I hope I will get cooperation from all political parties and leaders in running the nation.
Watch video: 
May 16, 2015 - Shanghai
Last year this time the world reverberated - 'dukh bhare din beetay re bhaiya'. I had not imagined that a year later on the same day (16th May) I would get an opportunity like this.
People trust me more because this is the 1st year of a full majority government, and we have done a lot of work.
Every moment of my time is for the 125 crore people of India.
I had said I am going to learn whatever good is happening, as a student with an open mind.
Criticizing me was fine, doubting me was not.
They (critics) used to say 'Who is Modi? What is he going to do in tech global world? Who knows him outside Gujarat?'.