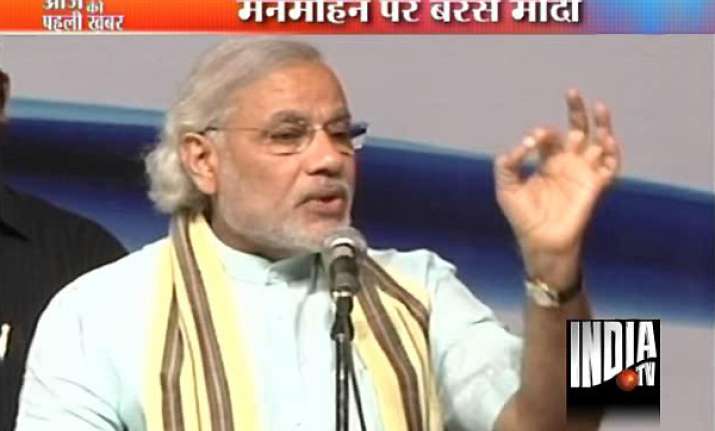 Mumbai, June 5: Gujarat chief minister Narendra Modi on Monday lashed out at the Prime Minister and the ruling Congress party for ignoring the aspirations of people of North-eastern states.
Felicitating North-East social worker Naban Atum here, Modi said, north-eastern states had played a leading role in the freedom movement, but were soon ignored by the Congess at the centre after independence.
Modi blamed successive governments at the Centre for ignoring the North-East.
"Most of our land borders are in the North-East, where separatism is rampant, arms smuggling continues unabated and the government of Delhi still remains unworried. This is really disturbing", said Modi.
Modi questioned the rationale behind putting restrictions on mobile connectivity in border areas.
"Despite repeated requests, Kutch border area in Gujarat is yet to get cellphone network. Our jawans who guard our frontiers feel peturbed. There must be connectivity in border areas, so that instead of intruders, we can dominate the region."
Modi blamed the Prime Minister for the falling Rupee and the slump in the economy.
He alleged that when Dr Manmohan Singh was Finance Minister, he stopped funding of  uranium exploration in north-eastern states.
"Dr Singh stopped funding of uranium reserves exploration in the North-East, and today he has tied up with the US for importing uranium. We have immense reserves of uranium in the north-east. Then what's preventing us from making plans to exploit them?"
"The power requirements of the entire nation can be met from hydro projects in the North-East, but this government lacks farsightedness and planning", Modi said.
Modi also charged that late Prime Minister Indira Gandhi had announced during a campaign in the North East that if Congress was elected, the administration would be run as per the Bible.
 "However, no secularists took objection to this statement," he said.
Modi said India's North East has a rich history of people who fought for the freedom from the British but claimed they were never honoured after the Independence.  
"Had their sacrifices been recorded and generations that followed read about them, what would have happened to a particular family for whom history has been changed," Modi alleged without naming the Nehru-Gandhi family.  
He alleged Singh had stopped making budgetary provisions for uranium exploration in North East after he had become the Finance Minister in 1991.
"Before 1991, these budgetary provisions used to be made. However, they were stopped after Singh became the Finance Minister. Later, when he became the Prime Minister, he ensured the policies were such that this (uranium exploration) would be done by the USA," Modi alleged. 
Modi said nuclear power was said to be safe and economically-viable and North East was the only place in the country where uranium is available in some quantity. 
He said the Prime Minister has been representing Assam in the Rajya Sabha for several years "but it was only in 2008 that he thought of a vision document for North East."
Accusing the UPA government of "lacking vision and planning for development", Modi said had the Centre thought of setting up hydro power projects in North East, electricity shortage in the country could have been minimised to a great extent.
"Water would have been an asset in North East and the economy would have thrived," he said.
Modi said it was during NDA rule that a separate ministry for North East was created.
"Had the Vajpayee government lasted longer, it would have fulfilled the incomplete task of Sardar Patel of integrating North East into national mainstream," he said.
Modi said he had at a conference of chief ministers in Delhi suggested that 200 police jawans from each North East state be sent on deputation to Gujarat for two years. 
"They would have got exposure to the rest of the country outside North east and this would have strengthened the bond of the people. Inflow of tourists from Gujarat to North East would have grown. But my suggestion is still to be implemented despite all other chief ministers agreeing that my suggestion was good," he said.
Modi charged the Centre with neglecting the development of border areas.
"Ignoring it is an invitation to disaster. In the Rann of Kutch, it is very difficult to provide mobile telephones to BSF jawans because of the connectivity from Pakistan. I have taken up the issue with the Centre several times that why this can't be stopped with technology and satellites. It looks like they (Centre) can't think of doing good work,"he said.
Modi presented the O.N.E India award to Naban Atum from Arunachal Pradesh who has been working in villages bordering China.
The award comprised cash prize of Rs one lakh, a memento and a trophy.