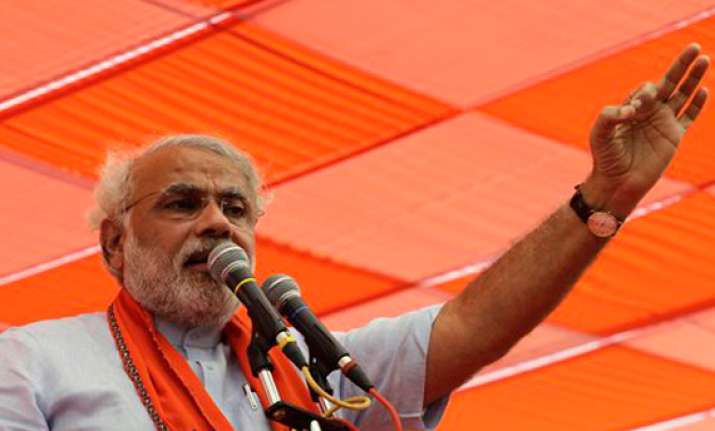 New Delhi, Dec 27: Fresh from his third successive assembly poll victory, Gujarat Chief Minister Narendra Modi was the cynosure of the media at the National Development Council meeting here.
Cameras followed every move Modi made, as he greeted political leaders and exchanged pleasantries.
Modi, who arrived after several other chief ministers had already come to the venue, exchanged words with union ministers and chief ministers, chatting in the aisle close to the main dais before the start of the event.
Tamil Nadu Chief Minister J. Jayalalithaa, who saw Modi from a distance, stood for a while and greeted him.
Modi greeted Uttar Pradesh Chief Minister Akhilesh Yadav, patting his back and hugging him.
He later went to the seat of Punjab Chief Minister Parkash Singh Badal and had a few words with him.
However, the much-anticipated meeting of Modi with his bete noire and Bihar Chief Minister Nitish Kumar did not come about in the morning session.
Modi, seen as possible prime ministerial candidate of the BJP for general elections 2014, faces opposition from Nitish Kumar's party, Janata Dal-United.
In his interaction with the media, Modi attacked the central government for "policy paralysis". But his criticism was laced with constructive suggestions. Other BJP chief ministers, too, tempered their criticism with positive suggestions.
Modi steered clear of all questions on his likelihood of playing a more active role in national politics. Asked about the talk of him contesting the next Lok Sabha polls from Lucknow, Modi remained quiet.
Officials said they were expecting a more pungent attack against the United Progressive Alliance from Modi, but he came up with some workable suggestions to address the concerns of the states.
Apart from Narendra Modi, Himachal Pradesh Chief Minister Virbhadra Singh also basked in the glory of the Congress victory in the assembly polls in the hill state last week.
Congress chief ministers Sheila Dikshit and Prithviraj Chavan warmly greeted Virbhadra Singh.