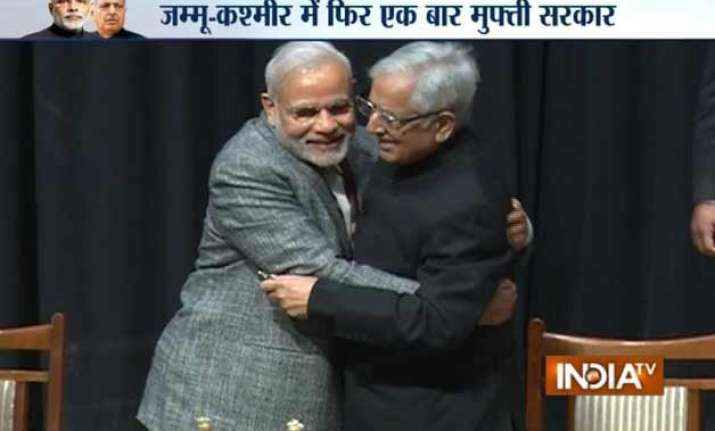 Jammu: Peoples Democratic Party (PDP) patron Mufti Muhammad Sayeed was today sworn-in as the Chief Minister of Jammu and Kashmir in the presence of Prime Minister Narenda Modi.
As per the terms of the alliance, Sayeed would be the chief minister for the full six-year term, BJP MLA from Billawar Dr Nirmal Singh would be the deputy CM.
ALSO READ: Mufti Mohammed Sayeed - A suave politician
Governor NN Vohara administered the oath of office and secrecy to Sayeed and Singh at a ceremony inside the General Zorawar Singh Auditorium of Jammu University.
Along with 79-year-old Sayeed and Singh, PDP's 13 and BJP's 11 MLAs were also administered oath of office by the Governor.
Besides Modi, BJP president Amit Shah, Union Ministers and several top party leaders including LK Advani, Murli Manohar Joshi attended the oath taking ceremony.
The PDP patron is heading a coalition government in the state for the second time. In 2002, he led a PDP-Congress alliance and was the chief minister for three years. He later handed over the chief minister's mantle to Ghulam Nabi Azad of the Congress as per the terms of the alliance. After 14 years, Sayeed is heading another ruling alliance, this time with the BJP.
As per the constitution, Jammu and Kashmir cannot have a council of ministers more than 25, excluding the chief minister.
The PDP had won 28 seats in the 87-member assembly, mostly from Kashmir. The BJP had bagged 25 seats from Jammu and Ladakh. The NC and Congress managed to get only 15 and 12 seats, respectively. Governor's rule was imposed in the state on January 9 after political parties failed to muster the requisite number in the House for staking claim to form government.