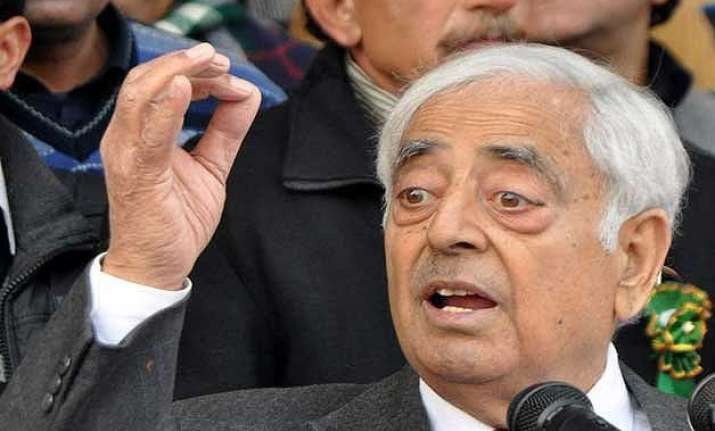 Jammu: Accused of being soft on separatists, Jammu and Kashmir Chief Minister Mufti Mohammed Sayeed today condemned the two back-to-back terror attacks in the state, terming these as a "conspiracy" to derail the peace process and asked Pakistan to rein in the terrorists.
Sayeed made the statement in the state Assembly which adopted a resolution condemning the attacks on a police station and an army camp in Kathua and Samba areas of Jammu on Friday and Saturday, respectively, after witnessing ruckus.
The resolution, adopted unanimously by both the Houses of the State Legislature, condemned the attacks and urged upon the Government of India to impress upon the Government of Pakistan to take all measures for preventing such dastardly acts in future for a lasting peace in the region so that the initiatives towards peace do not get derailed and allow the people of Jammu & Kashmir to get the dividends of peace process.
"The forces behind the attacks need to be identified. The people of J&K have given a mandate of power to move ahead.  This attack is a conspiracy to derail peace as peace is about to return like after 2003. I want such peace," he told the Assembly after opposition created uproar demanding adjournment of the Question Hour.
Condemning the terror attacks, he said the people of the state have a strong resolve and some terrorist attacks will not deter them.
Sending out a message to Pakistan, Sayeed said, "If they want peace, reconciliation, Pakistan PM Nawaz Sharif, its establishment must control them (terrorists)." At the same time, he described Pakistan as a "victim" of terrorism.
"Pakistan itself is a victim of terrorism...Pakistan itself has been caught in the web of terrorism...If their Prime Minister says they are unable to do anything (to control terrorism).... so this is our fight also," Sayeed said.
"Let me tell their (Pakistan) Prime Minister and their establishment that if they want peace and friendship with us and continue the process (peace), then they must control them (terrorists)," he said.
He reminded that during the tenure of former President Pervez Musharraf there was on the borders.
The Chief Minister has been accused of being soft on separatists and had come under attack for describing those who attack police station in Kathua as 'non-state actors'.
Sayeed again described the terrorists from across the border as "non-state actors" and asked, "Who were the people who attacked churches in Karachi, who launched attacks in Peshawar, who is Lakhvi."