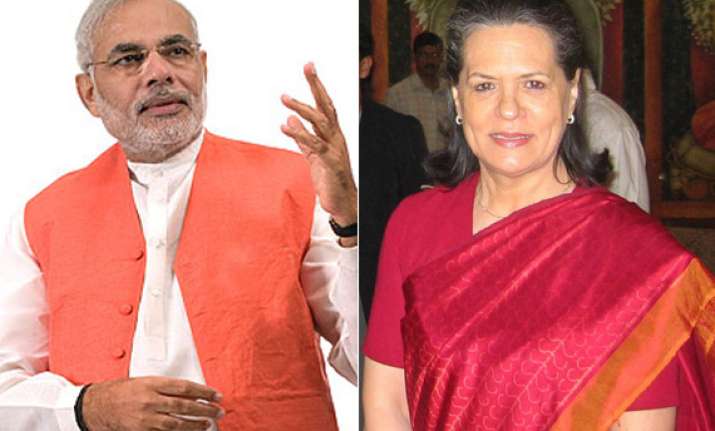 New Delhi: Narendra Modi today today attacked Sonia Gandhi over her assertion that Congress stood for democratic values, citing the ruling party's "refusal" to consult BJP in selecting the country's President and former PM Indira Gandhi's targeting of the media during Emergency.
The BJP's Prime Ministerial candidate took on the Congress president over her televised appeal three days ago and said her party and government had "belittled" and "humilated" all democratic institutions from the CAG, the CVC and the CBI.
"The constitution gave media freedom. Your (Sonia's) mother-in-law snatched this and put behind the bars self-respecting journalists... Could you not have enhanced the country's pride by consulting the opposition in choosing the President? You used CBI to reach a majority in Parliament whenever the need arose.
"Your shehzade (Rahul Gandhi) called a press conference to reject a decision taken by the Cabinet headed by a Prime Minister who was loyal to you. You talk of Congress respecting democratic institutions, what kind of respect is this"? he said in a speech broadcast across the country through 3D technology.
Taking a dig at her and Congress Vice President Rahul Gandhi, he claimed Rahul seemed to have run away from the field and she has had to take charge now.