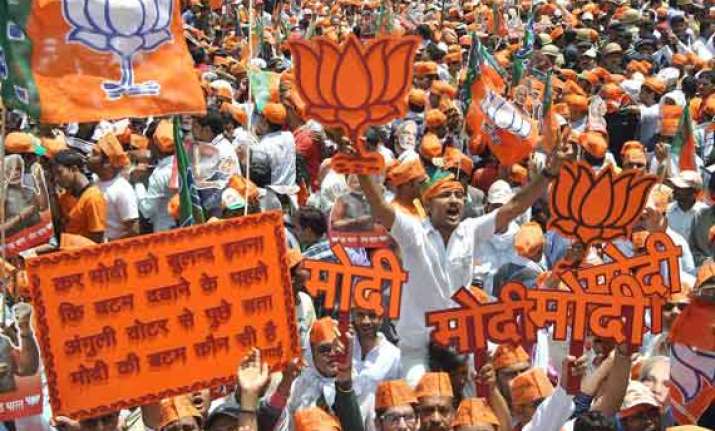 New Delhi/Varanasi: A day after he led the BJP to an unprecedented triumph in the parliamentary polls, Narendra Modi, set to be India's next prime minister, Saturday undertook victory laps in Delhi and Varanasi, the second Lok Sabha seat he has won, and taunted Congress over its historical loss.
A sea of supporters waved Bharatiya Janata Party flags, blew conches, beat drums, danced and shouted slogans as soon as the Gujarat chief minister stepped out of the Delhi airport after flying in from his state. The celebrations continued all through the long route to the party office.
Besides BJP president Rajnath Singh, the seven newly-elected party MPs from Delhi were among those who received Modi, visiting Delhi a day after the announcement of the Lok Sabha results.
His tone and expressions much more relaxed than what was witnessed during his over 400 rallies during the poll campaign, Modi dedicated the party's thumping victory in the Lok Sabha polls to the "generations of loyal party workers" as he reached party's national headquarters at 11, Ashoka Road in central Delhi
The first political reference in his speech came only late in the evening in the Hindu holy city of Varanasi, when he took a jibe at Congress for its pathetic loss, as it was limited to 44 Lok Sabha seats.