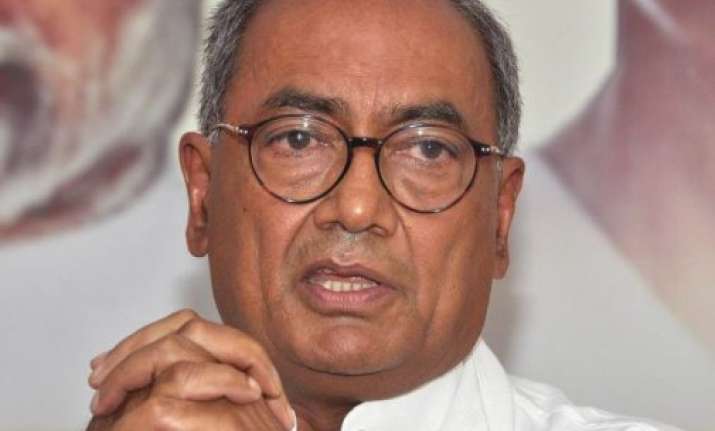 Bhopal: Congress General Secretary Digvijay Singh in Bhopal demanded from Prime Minister Narendra Modi to pay Rs three lakh each to citizens of the country as promised by him on the issue of black money stashed in foreign countries during Lok Sabha polls campaigning. Singh, who was in city today to attend a programme in Dewas district demanded that Modi and yoga guru Baba Ramdev should keep their promises on the issue.
"I demand from Prime Minister and Baba Ramdev to pay Rs 3 lakh each to people of the country or at least to those who are not income tax payee as promised by them," Singh told reporters when asked about government's stand in the Supreme Court on the black money issue.
Responding to a query on whether it is legally possible to bring back black money, he said, "We have been saying that for the purpose, the government has to sign a treaty if the law of that country permits it to do so. We are not against bringing black money back.. it should be." Singh also took a dig at Modi on social networking site Twitter on Friday as he tweeted, "Modi promised to get Black Money from Abroad and distribute to every Indian 3 Lakhs! Height of FEKUISM!"
On Finance Minister Arun Jaitley's stand in the Supreme Court expressing government's inability to disclose names of black money holders abroad under double tax avoidance pacts signed by the previous government with countries that bar such information being made public, Singh said that Jaitley was not speaking the the trust and that it was not something expected from him.
Meanwhile, on the exit polls projecting victory of the BJP in Maharashtra and Haryana state assembly polls, Singh refused to comment on it. Referring to Madhya Pradesh Professional Examination Board (MPPEB) examination cum recruitment scam, the congress leader said he has filed a petition in the MP High Court which is monitoring the case at regular intervals.
On the alleged Madhya Pradesh Public Service Commission scam, Singh said he would soon expose it too.