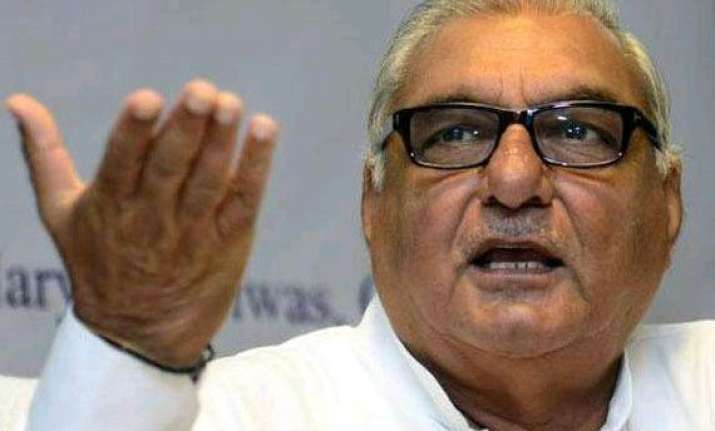 Kurukshetra/Hisar: Prime Minister Narendra Modi today attacked Haryana government over its clearance to an "illegal" land deal of Sonia Gandhi's son-in-law Robert Vadra and asked the Election Commission to take note of it and initiate action.
Addressing election meetings, he raked up Hooda government's decision on Vadra's land deal with real estate giant DLF and take action as it violated the model code of conduct.
"They (Hooda government) know that after the elections, the son-in-law (Vadra) will not get any clearances for illegal deals. So, in between the election process, they have dared to take such a decision," Modi said.
"I think Hooda was pressurised from the top (Congress leadership) to take such a decision," he said.
"I hope the Election Commission will take appropriate action for any violation of the Model Code of Conduct," he said raking up the alleged land deal involving Sonia Gandhi's son-in-law.
Modi stepped up the attack on Vadra against the backdrop of a newspaper report on the land deal which was cleared by the government in July ahead of the polls.
The Hooda Government had cleared the land deal between Vadra DLF accepting the mutation of land in Gurgaon in his favour overturning a whistle blower official Ashok Khemka who had cancelled the mutation.
"It is clear from this decision of the shameless Hooda government that both he and the Congress party have already accepted defeat in Haryana," Modi said.
Taking on the family of former Chief Minister O P Chautala, convicted in a corruption case, Modi described those who ruled the state in the past as 'bahubalis',  he said.
"There is a need to get Haryana rid of bahubalis so that common man gets good governance, old persons are given respect and women are provided security."
Modi said a government with absolute majority will be able to get Haryana rid of bahubalis.