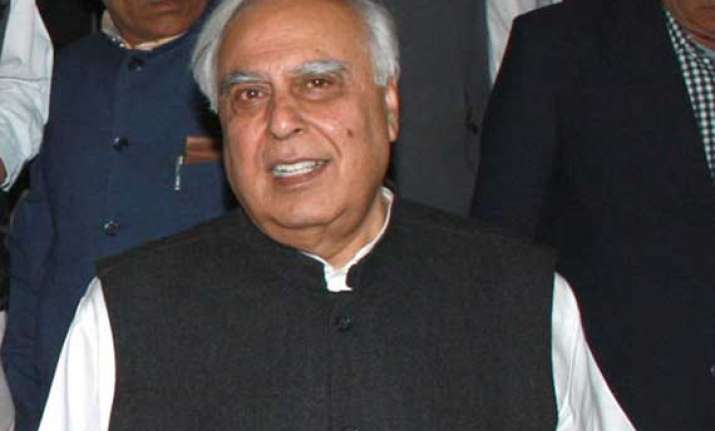 New Delhi: Stepping up the offensive against Narendra Modi, the Congress today said he was a "potential accused" in the Tulsiram Prajapati murder case and should be interrogated by the CBI, hours after the the BJP's prime ministerial candidate promised to cleanse the political system and parliament of criminal elements.
Senior party leader and Union Law Minister Kapil Sibal also demanded the arrest and interrogation of Parag Shah, who worked in the Gujarat CM's office previously, claiming he had detailed talks with the police officer concerned who allegedly executed the murder of Prajapati.
"This evidence has come for the first time, which shows that the Chief Minister's Office was directly involved in what was happening" with regard to the encounters, Sibal said, submitting call detail records of conversations between Parag and Rajkumar Pandian, who "planned and executed the murder of Prajapati".
He said Parag, who was appointed Officer on Special Duty (IT) in the Chief Minister's Office, was also "associated with cyber cell of the Anti Terrorist Squad. "Parag was also PA to senior BJP leader L K Advani from June to December 1998, when he was the Union Home Minister," Sibal stated in the press note which, he said, also carries details of the CBI charge sheet in the fake encounter cases.
"There can hardly be any doubt that the Chief Minister must have been aware of the Prajapati encounter carried out by the police officers working in the ATS led by DIG DG Vanzara," he said.
Sibal said it was clear from "circumstantial evidence" that Modi's office was fully in the know as to what was happening in the "conspiracy to eliminate" Prajapati in the fake encounter that took place on December 26, 2006.
"Modi is a potential accused. The circumstantial evidence is clear. We are wondering why the CBI has not arrested Parag Shah and why Modi has not been interrogated. The nation needs to know. The CBI needs to answer. Courts in India should ensure that a proper investigation takes place with the interrogation and arrest of Parag Shah and the summoning of Modi for interrogation," he said.
Sibal also quoted remarks of Vanzara in his resignation letter to buttress the point that the chief minister was aware of the whole incident.