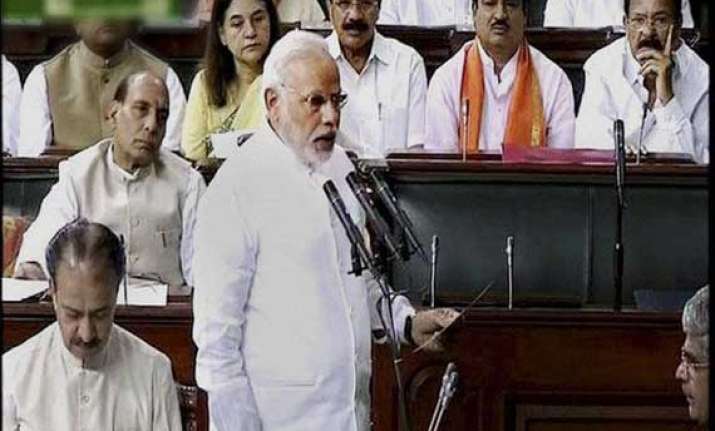 New Delhi: The confidence and the proactiveness of Prime Minister Narendra Modi, coupled with the majority his party has got, helped the 16th Lok Sabha get off to a flying start, particularly when the last few sessions of the 15th Lok Sabha would be remembered more for their disruptions than deliberations.
With the ruling Bharatiya Janata Party having a comfortable majority on its own with 281 of the 543 elected seats, the Lok Sabha, used to ruckus and near-riotous situations during the UPA regime, saw business being transacted smoothly after a long time.
The session, which began June 4 on a sad note struck by the death of union minister Gopinath Munde, which reduced the BJP's numbers from 282 to 281, was soon back to business as members took oath -- a whopping 315 of them were new faces.
That the government meant business was evident from the start with the oath-taking being completed virtually within a single day on June 5. On earlier occasions, oath-taking has carried on for almost three days. Only a small number of MPs who were absent took their oaths on the following day.
"Though it is too early to comment on the smooth running, it is true that a single party has full majority in the house and the ruling coalition that is the National Democratic Alliance has a very comfortable majority," M.R. Madhavan, president, PRS legislative research, told IANS.
He said that the important thing to come out of this session is that the President's address has provided a policy document, guiding the new government on its road map for the future. "Earlier in 2009, the UPA-II's policies were a continuation of the earlier policies of UPA-I."
Apart from the fresh faces, the new seating arrangements set the mood of change in the new Lok Sabha as the treasury benches were occupied by BJP members who had for long been accustomed to sit on the left side of the speaker's podium.
On the other hand, the Congress members seemed uncomfortable sitting on the opposition benches, with their party president having to occupy the seat which was earlier warmed by senior BJP leaders like L.K. Advani and Sushma Swaraj.