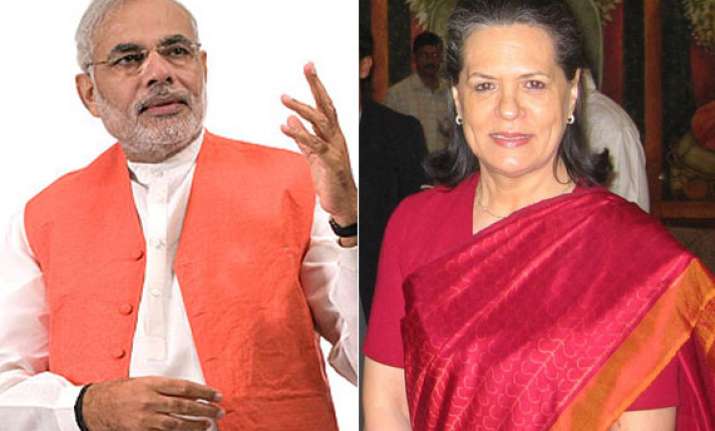 Roorkee/Kullu: Congress President Sonia Gandhi today slammed BJP's prime ministerial candidate Narendra Modi for levelling "unfounded corruption charges" against her party and questioned as to why Lokayukta was not appointed in Gujarat for ten years.
"Instead of pointing an accusing finger at others, BJP campaign chief should introspect and find an answer to the question as to why Lokayukta was not appointed in Gujarat for ten years. Was it not to hide the misdeeds of his own government?" she asked at an election rally in Roorkee in Uttarakhand.
"Modi should see when he shows an accusing finger at others where do his other fingers point," she said.  So far as Congress is concerned, Gandhi said, it gave the people the powerful anti-corruption tool of RTI.  Earlier, addressing a rally in Kullu in Himachal Pradesh, she criticised Modi for using a martyr's name during his campaign in the state last week.
She said he used the catchword of Kargil martyr Capt Vikram Batra 'Yeh dil maange more (this heart wants more)' only for "the prime minister's chair".  "Unka dil sirf kursi maang raha hai (Modi's heart wants only the chair)," she said, adding it amounted to insult to martyrs.
In her rallies, Gandhi took a jibe at the "tone and tenor" of the speeches of Modi, saying he was speaking as if he had already won the chair of prime minister while election results are yet to be declared.
From what Modi says at his rallies it seems he is under an illusion that the poll verdict is out, she said.  "In his feverish pursuit of power, Modi seems to have lost sight of an important fact that people are yet to deliver their judgement," she said to loud cheers from the audience.