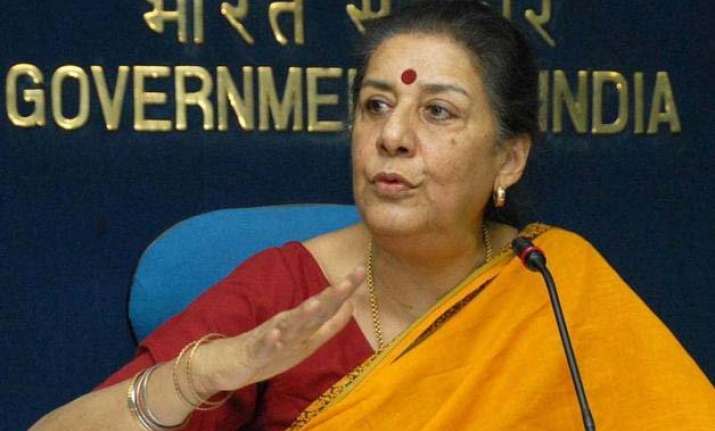 New Delhi:  Dubbing the Narendra Modi government as a "toothless wonder", Congress today hit back at the Prime Minister for painting Sonia Gandhi as an "unconstitutional" authority during the UPA regime.  
"It is a case of the pot calling the kettle back," party General Secretary Ambika Soni told reporters in a sharp retort at the Prime Minister in the wake of his attack on Gandhi.  She noted that there was a Core Group in which the party and the government used to hold consultations on the way ahead.
Modi had suggested that the Congress chief had been an "unconstitutional" authority exercising "real" power over the PMO during the UPA rule whereas power was now wielded only by constitutional means.
"Constitutional impropriety is the hallmark of this government... It has a cabinet which is a toothless wonder...  a deliberate whispering campaign was launched to demolish individual ministers," Soni said referring to an article in the Economist projecting the prime minister as 'one man band'.  
Charging the prime minister with "demoralising Cabinet colleagues and denigrating role of Parliament", she said that the Modi dispensation was making deliberate attempts not to have discussions in Parliament and was seeking to bring an 'ordinance raj'.
The government, she alleged, was seeking to convert Parliament into a "club" for passing ordinances and was avoiding select committees and standing committees.  
A vigilant Opposition has been able to stand up to it due to its numbers in the Rajya Sabha, she told reporters along with AICC communication department in-charge Randeep Surjewala.
Projecting the NDA in a poor light, she said that unlike the UPA, there have not been any mechanism in place for consultation with allies.
Besides, she said that the way the Modi dispensation flatly rejected the demand for a special package by the Akali Dal-ruled Punjab showed how "shabbily the BJP was treating its allies".
In the UPA regime, there was a Coordination Committee with the Left parties when they were supporting Congress and later there was a Coordination Committee with other allies.
Soni downplayed a question on Rahul Gandhi tearing a copy of the ordinance negating a Supreme Court order that ruled that convicted lawmakers cannot continue in office.
Soni said that the prime minister and his colleagues have not spared the media either and continue in their vitriolic attack against it.
"The Prime Minister has called the media 'bazaroo' and his Minister of State V K Singh recently described members of the media as 'presstitutes'," she said.
In recent days, Solicitor General of India has raised "multiple innuendoes" qua sitting high court judges and their process of appointment by the Supreme Court collegiums, she said, adding, "This systematic denigration to browbeat judiciary does not bode well for democracy."
"Lack of constitutional literacy, absence of faith in constitutional bodies and practices, complete institutional paralysis through a concerted effort - all with a view to subjugate democracy are, thus, writ large in Modi government," she added.