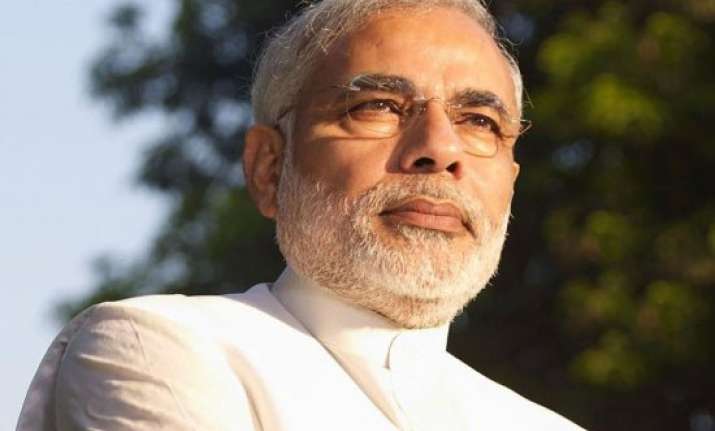 Tuljapur: Training his guns on Congress and NCP, Prime Minister Narendra Modi today said both the parties will not win more than 10 seats each in the Maharashtra Assembly polls.
"You all must have seen the clock (NCP's symbol) showing 10 minutes to 10. Do you know what does that indicate? It indicates that the Congress and the NCP will not be able to win more than 10 seats each in the upcoming polls," Modi said mocking the NCP's election symbol while addressing a poll rally in Maharashtra's Osmanabad district.
The Congress-NCP have looted enough in their 15-year rule and it's now time to bid them farewell, he said.
"I want to know from you, what did the Congress-NCP give you when they ruled this state. Did they do any good for farmers, for the villages or for cities? Then why do you let them survive? They have looted you enough in all these years, there is no place left for them here anymore," he said.  Terming the NCP as a "Naturally Corrupt Party," Modi said it is not a Rashtravadi (Nationalist) party, but a "bhrashtacharvadi" (corrupt) party.
"We all know the kind of language used by NCP leaders. My head hangs in shame listening to them. It's a pity that there are such people in Chhatrapti Shivaji's Maharashtra. We have to remove this 'kalank' (stain) from the state," he said in an indirect reference to NCP leaders R R Patil and Ajit Pawar whose statements earlier stoked controversy.
Patil had on Friday trivialised rape when he said an MNS candidate for the Assembly poll jailed for the offence could have waited for elections to get over before committing the crime.
Former Deputy Chief Minister Ajit Pawar, while ridiculing a farmer fasting for water had earlier said at Indapur, "He has been fasting for the last 55 days. If there is no water in the dam, how can we release it? Should we urinate into it? If there is no water to drink, even urination is not possible." His remarks had triggered outrage, forcing him to tender an apology.
Laying emphasis on the need to connect various rivers criss-crossing different states of India, Modi said that such a programme will ensure that farmers are not deprived of water for their crops.
"When Atalji was the PM, he had started a programme to provide pucca (concrete) roads to every village. I too have a dream of connecting various rivers of our country. There are some rivers that have excess water and some are left dry. By connecting the rivers we can ensure that farmers do not lose their crops due to lack of water," Modi said.
Urging people to shun caste-based politics, he said solution to every problem plaguing the country lies in development.
"I appeal to you to shun jaati-vaad (caste-based politics), chacha-bhatija vaad (uncle nephew politics) beti-damaad vaad (daughter son-in-law politics) and choose the path of development now. The only solution to our problems lies in development. We could have been the world's number 1 country if the last 50 years were utilised properly," he said.  Listing out his plan to develop Tuljapur into a tourist hub, Modi said it is time that the town is connected to the rest of the state via a rail network.
"Every child wants to send his parents on a teerth yatra (religious tour). If we can provide necessary facilities to accommodate a large number of tourists here, it will change the lives of people staying here. It is so difficult to reach Tuljapur. Should there not be a Solapur-Tuljapur railway network? This place will become a tourist hub then," Modi said.