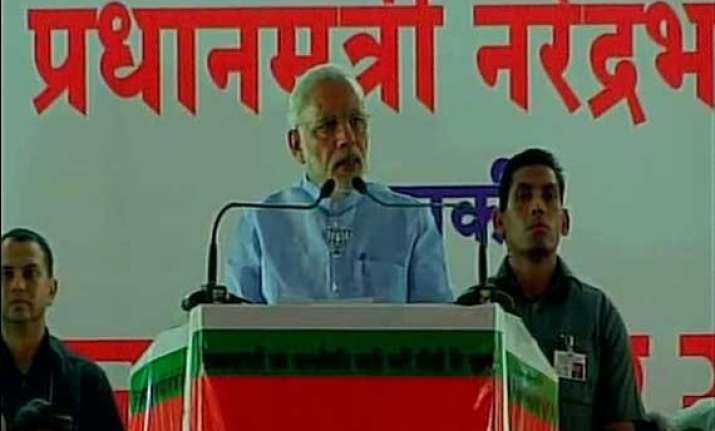 Dhule/Jalgaon/Nagpur: Seeking to blunt the propaganda by rivals that BJP will divide Maharashtra if voted to power, Prime Minister Narendra Modi on Tuesday said "no power" can split the state even as he asserted his party will secure an absolute majority in the Assembly polls.
"Congress leaders have been spreading lies on cotton and onion for the last 10 years. They have started spreading a new lie. They say Maharashtra will be split. Has anyone been born in this country who can divide the land of Shivaji ?" he said addressing a campaign rally in Dhule district.
"I assure you that as long as I am in Delhi, no power in the world can split Maharashtra and also separate Mumbai from Maharashtra," he said, touching upon the contentious issue of creation of a separate Vidarbha, a day after Shiv Sena chief Uddhav Thackeray alleged that BJP wanted to "break the state into pieces".
Though Modi said it was Congress which was "spreading the lie" about dividing the state, Uddhav had on Monday said at an election rally at Tuljapur in Osmanabad district that "BJP wants to divide the state in the name of development and progress. But the people of Maharashtra will never let that happen. They (BJP) will be given a befitting reply (by the voters)."
"If you want our state to be broken into pieces, then vote for BJP. But do you want that to happen?" he had asked. Addressing well-attended rallies at Erandol in Jalgaon district and Nagpur where enthusiastic crowds frequently broke into chants of 'Modi! Modi", the Prime Minister targeted Congress and NCP but made no mention of Shiv Sena despite its leaders' rant against him and BJP.
Modi said political pundits will be proved wrong once again as BJP will win a majority despite predictions of a hung House. "If political pundits are proved wrong again, I will be sad. Before Lok Sabha polls, pundits said BJP will get 120 seats, that Modi is new and nobody knows him outside Gujarat.
"But BJP alone got 282 and, with allies, crossed the 300-mark. All pundits were proved wrong. Their calculations failed as they used the old yardstick," Modi said, addressing a poll rally at Nagpur. "Even this time, pundits are saying there will be hung Assembly. I want to tell them, if you have time, just look at the massive crowds at my rallies in Maharashtra and people's enthusiasm," he said, adding, "This will be an unprecedented election in history of Maharashtra and BJP will win full majority."
Accusing successive Congress-NCP governments in Maharashtra of being "steeped" in corruption, Modi said time had come to wash away its "sins of 15 years". "15th October is the festival of washing away the sins of the 15 years of Congress-NCP governments, to bring an end to 15 years of corruption and destruction," he said addressing a rally at Erandol.
"The governments in Maharashtra did not spare anything and anybody from corruption. They snatched away the food from the platters of children who were supposed to get it under the mid-day meal scheme, they left the farms thirsty and took away electricity meant for farmers," he said.
Modi said years of neglect by the state government had led to large-scale migration of the youth from villages to large cities and towns in search of jobs. "I know what poverty is, the pain one feels when one does not have money to buy medicine for an ailing mother....I want that the youth does not have to leave their old parents, their villages, their farms behind and go looking for jobs in cities," he said.
The Prime Minister said he wanted the spirit of "Team India" to define Centre-State relations. "I want the spirit of Team India to define Centre-State relations. Prime Minister and Chief Ministers should work as a team and the voices from the states are heard....I want the journey of development to be like that," he said. "If a non-BJP state government stands with the Centre, then it is one plus one, that is two. But if another BJP state government is there, the total will be one plus one, that is eleven," he said. The Prime Minister said his government was aiming at housing for all by 2022.