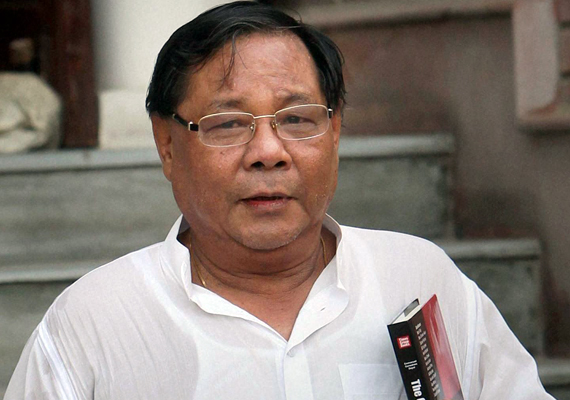 Shillong, Aug 25: The NCP in Meghalaya on Friday merged with National People's Party (NPP), a newly-formed outfit formed by P A Sangma.
Sangma, who had resigned from NCP as its General Secretary and unsuccessfully contested the Presidential poll against Pranab Mukherjee last month, would be NPP's president.
Altogether 13 out of 14 NCP legislators, including two of Sangma's sons Conrad (leader of opposition) and James Sangma, backed their father.
However, Sangma's daughter and Union Minister Agatha Sangma and lone Rajya Sabha member from Meghalaya Thomas Sangma are still with NCP.
"Once I was considered one of the most powerful men in Congress... Yet I quit that party not for any bigger post but for my principle," Sangma said while addressing the formal launch of the new party in the state.
"I am joining NPP on my principles," he said.  
The former Lok Sabha Speaker was expelled from Congress, together with Sharad Pawar and Tariq Anwar in 1999, for opposing
Sonia Gandhi
's Prime Ministerial aspirations citing her foreign origin.
"I said back then only an Indian by birth should be the Prime Minister of the country and I stick to my principle," he said.
Sangma, Pawar and Anwar later formed the NCP in 1999 but differences surfaced in the new outfit and Sangma for a brief period merged the Meghalaya NCP with Mamata Banerjee's Trinamol Congress in 2005 before returning to Pawar-led NCP.
Sangma said he was faced with this dilemma of taking forward the aspirations of millions of tribals who wanted to see a tribal president.
But his party threatened him of disciplinary action if he contested and so he quit the party "by listening to my conscience."
Sangma has shifted his focus on the welfare of the tribal population, whom he dubbed as "weak, never-demanding and always tolerant."
Sangma said though the vast tribal population is spread across the country it has "not got their due share" and so NPP would try to give tribals their rightful dues.  The leader from Garo Hills in Meghalaya said tribals must demand their rights and the NPP is the platform.
Pointing out that the country has 57 tribal MPs, Sangma said "if we can come together, who can touch us? The launch of NPP is towards uniting the tribal in the country."
Sangma dedicated NPP to the people of Meghalaya, North East adding "through this we will build a new India."
Meanwhile, the Leader of the Opposition Conrad K Sangma said all 13 NCP legislators met Speaker Charles Pyngrope and formally handed over the letter of NCP's merger with NPP.
Sangma was confident that two-thirds of the legislators had merged with NPP and there was no cause of any legal hurdles.
"In such a situation, we have to take a tough decision to follow our leader," Conrad said adding "all we are doing is putting on 'new-jersey' of the same team." NPP Manipur President V Hangkhanlian announced NPP Meghalaya would be headed by NCP's former President W Kharlukhi.
NPP, a state party from Manipur, was registered in 1989 with a book as its symbol.
The party had sent six legislators to Manipur Assembly since 1990. However, in the last assembly elections in 2012 the NPP fielded five candidates but none won, NPP Manipur unit president V Hangkhanlian said.