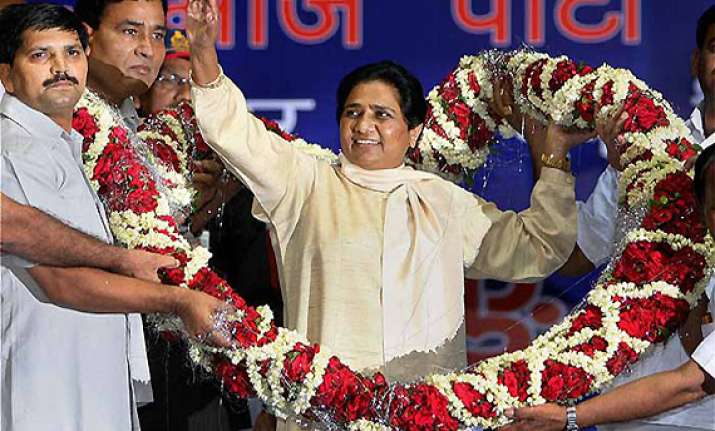 Bahraich/Gonda, Feb 3: Uttar Pradesh Chief Minister Mayawati today attacked the Congress for its "wrong" economic policies, saying they had led to problems of poverty and unemployment and forced people to move out to other states in search of livelihood.

Addressing election meetings, Mayawati said people in search of jobs in UP are forced to shift to Congress-ruled states, where they have to face discrimination from the respective state government.

Accusing the Congress-led government at the Centre of meting out "step motherly treatment" to BSP-ruled UP, Mayawati reiterated that she has toiled hard for all round development of the state and launched welfare projects which were not even thought about by her predecessors but said she could have done better with help from the UPA.

"Had the Central government extended support, we could have given much better results", she said adding that this discrimination had also been because of casteist and political animosity.

Recalling how her request for a special economic package of Rs 80,000 was turned down by the Centre, she said the state government on its own provided a package for the development of Purvanchal region.

Demanding a special package for Purvanchal area on the lines of Himachal Pradesh and Uttarakhand, she alleged that the Centre had not paid attention to finding a permanent solution to the problems of flood and water logging.

The Chief Minister, who got a resolution passed by the Vidhan Sabha for division of UP into four states, alleged that the Centre failed to fulfil its constitutional responsibility in this regard and blamed the opposition parties of playing politics over the issue.

She said in 2007 state polls some wrong people entered BSP and got elected on party ticket.

"But as they started damaging party's image because of petty personal interests, they were shown the door," she said adding that the party has fielded candidates with clean image in 2012 UP elections.

Mayawati warned if Samajwadi Party returned to power, it would be goonda raj in UP, if BJP manages to form government it would strengthen communal and feudal powers and in case Congress returned, it would force poor, dalits and unemployed to seek livelihood in other states and sought votes for the welfare of sarv samaj.

Attacking FDI in retail which has been put on hold for now, she said it would destroy small traders.