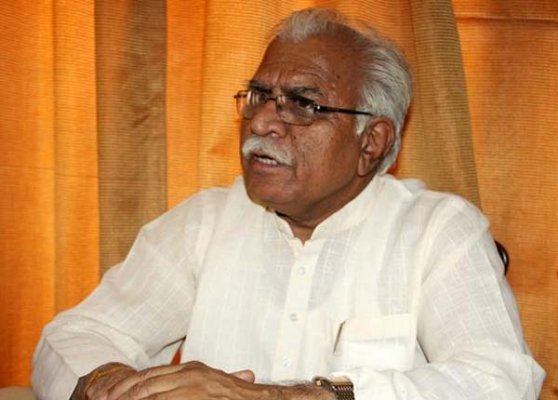 Chandigarh: The newly elected Bharatiya Janata Party (BJP) legislators in Haryana today unanimously elected Karnal MLA Manohar Lal Khattar as their leader in the assembly, paving way for his anointment to the Chief Minister post.
The Haryana BJP legislature party met at Chandigarh to elect its leader today. The meeting was chaired by Union Parliamentary Affairs Minister Venkaiah Naidu and party vice president Dinesh Sharma. Both were appointed observers by the BJP's Parliamentary Board for deciding on the name.
The swearing-in of the new Chief Minister and other ministers is likely to take place on October 26. The ceremony could be held at a sports stadium in Panchkula town, 15 km from here, instead of the Haryana Raj Bhavan here.
Khattar is said to be very close to Prime Minister Narendra Modi and BJP chief Amit Shah. He also has an association with Rashtriya Swayamsewak Sangh (RSS). Sources said that the RSS had given green signal on his name.
A master strategist, Khattar was appointed chairman of BJP's Haryana election committee for the recent Lok Sabha elections.
60-year-old Khattar is also the first Punjabi to become the Chief Minister of the state.
Khattar, a first-time MLA, has worked as a RSS Pracharak for 40 long years. Born in Rohtak district, he had contested the Assembly elections from Karnal. He won the Karnal seat with a margin of 63,736 votes.
Another aspirant for the post of Chief Minister Haryana BJP president Ram Bilas Sharma told reporters that he had proposed Khattar's name, which was seconded by several MLAs including another aspirant Abhimanyu and Prem Lata (wife of Birender Singh who joined the BJP from Congress recently).
Sharma said that they would meet Governor Kaptan Singh Solanki to stake claim for formation of the government. BJP leader and Chandigarh MP Kirron Kher was also present at the meeting.
With Khattar's election, Haryana will get a non-Jat Chief Minister after 18 years. Bhajan Lal was the last non-Jat Chief Minister who held office from 1991 to 1996. After his exit Bansi Lal, Om Parkash Chautala (twice) and Bhupinder Singh Hooda (twice) were the Chief Ministers.
Victory in Haryana for the BJP was a phenomenal achievement. The party is in a 'very comfortable' position, with 47 seats in the 90-member House, to form the government. A party needs to win 46 seats to get a simple majority in the House.