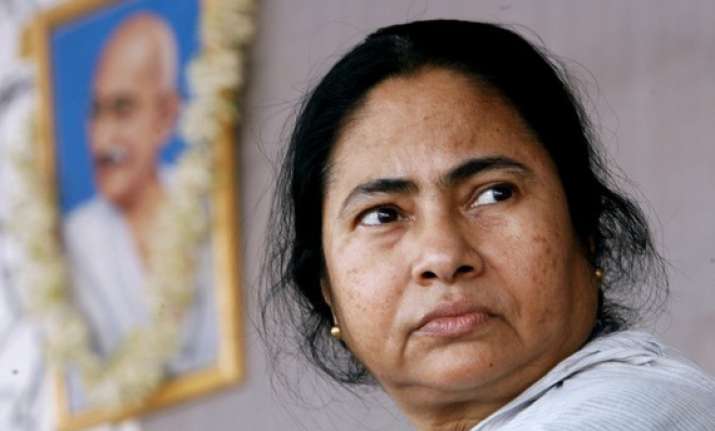 Mumbai, August 2: West Bengal Chief Minister Mamata Bannerjee Thursday gave clear indications that she is open to all kinds of political combinations ahead of the Lok Sabha elections next year.
"I love the federal front. I have always advocated a stable government at the centre. I think stability is important for democracy," Banerjee said on her first visit to Mumbai to woo captains of Indian industry and business at a meeting in World Trade Centre here.
Speaking to media persons on the sidelines of the meeting, Banerjee, looking cheerful and radiant, chose against predicting the outcome of the 2014 general elections.
"I am not an astrologer to predict it. But, if regional parties do come up and join hands with national parties, I would not mind," she said, adding that she would not field "out of line questions".
Accompanied by state Finance Minister Amit Mitra and other officials, she succeeded in attracting an impressive response from industrialists with top personalities like Reliance Industries chief Mukesh Ambani, Godrej group chairman Adi Godrej, JSW chairman Sajjan Jindal, ITC Groupchairman Y. C. Deveshwar, Hinduja Group chief Ashok Hinduja and others in attendance.
Other notables who took part in the enthusiastic discussions included Kotak Group chief Uday Kotak, RPG chief Harsh Goenka, Videocon head Venugopal Dhoot, ICICI Bank's Chanda Kochar, TCS chief N. Chandrasekharan, HUL's Nitin Paranjpe, NTPC's A.R. Chaudhary and Allahabad Bank chairman-cum managing director Shubhalakshmi Panse.
The gathering was in sharp contrast to the severe criticism she had attracted after driving out the Tata Group's Nano affordable car project out of West Bengal a few years ago.
Responding to a query on this, Banerjee said: "The matter is sub-judice... But I have no regrets over Singur."
Later, Bollywood actor Mithun Chakraborty dropped by to greet Banerjee and her entourage and posed for the photographers.