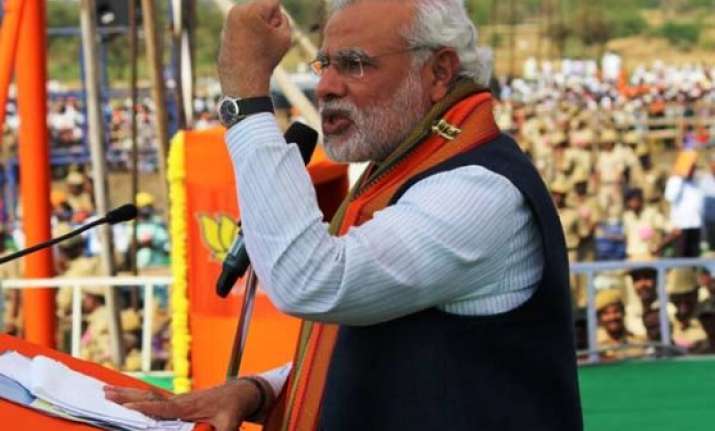 New Delhi: Prime Minister Narendra Modi will be addressing four election rallies in Maharashtra today.
He will be holding public meetings in Sangli, Kolhapur, Gondiya and Nasik.
The Prime Minister is expected to address more than 15 rallies in the State, which goes to the polls on October 15.
On Saturday, Modi, who started his whirlwind campaign tour in the state by addressing rallies at Beed, Aurangabad and Mumbai, never once mentioned Bharatiya Janata Party (BJP)'s former ally Shiv Sena.
Meanwhile, Union Home Minister and senior BJP leader Rajnath Singh will also be visiting the state today. He is scheduled to address three election rallies in Umarkhed, Chimur, Varora.
On the other hand, BJP president Amit Shah, External Affairs Minister Sushma Swaraj, Madhya Pradesh Chief Minister Shivraj Singh Chouhan will be campaigning for party's candidates in Haryana.
Swaraj will hold five rallies at Hodal, Narnaul, Bahadurgarh and two in Safidon.
Shah and Chouhan will be addressing four public meetings each at Ganaur, Kharkhoda, Baroda, Narwana and Barada, Pehowa, Guhla Cheeka, Kaithal respectively.
Single phase polling in Haryana will be held on October 15.
Counting of votes in both Maharashtra and Haryana will take place on a single day i.e. October 19.