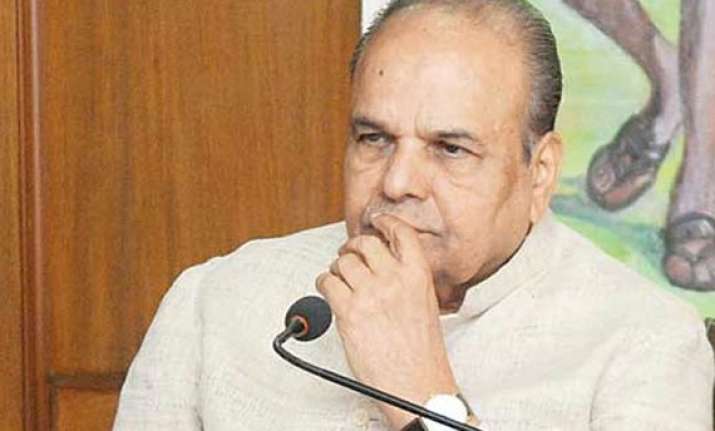 Mumbai: Maharashtra governor K Sankaranarayanan, who was transferred to Mizoram by the Modi  government, has sent his resignation to the President, according to sources.
Sankaranarayanan  has reigned in protest to his transfer to the north eastern state of Mizoram.
After the news came in of his transfer, Maharashtra governor had said that he would prefer to resign than to accept his resignation.
"I have not yet received the official warrant, but I will not stick to the position of governor bearing the disgrace (of being transferred to Mizoram)," Sankaranarayanan had told a newspaper.
Earlier, in what appears to be another case of punishment posting, Maharashtra Governor K Sankaranarayanan had been transferred to Mizoram.
K Sankaranarayanan was among those UPA appointed Governors who were asked by the new Modi government to step down. In fact, Sankaranarayanan had publicly accused the union home secretary Anil Goswami of calling him up and asking him to resign. Sankaranarayanan, however, had made it clear that he won't resign unless he is formally asked to step down by the President or the Prime Minister.
A communique issued well past Saturday midnight by the Rashtrapati Bhavan stated that the 82-year-old Mr Sankaranarayanan had been transferred to Mizoram for the remainder of his term, which ends in 2017. Gujarat Governor Om Prakash Kohli has been asked to discharge his duties.
It should be recalled that Kamla Beniwal, the then Governor of Gujarat, who had several run-ins with Narendra Modi as Gujarat CM, was first asked to join as Mizoram Governor and then she was sacked within a month on the charges of "gross impropriety".
Mr Sankaranarayanan's transfer comes barely a day after the Supreme Court sought an explanation from the Modi government on whether Uttarakhand Governor Aziz Qureshi had received phone calls from Home Secretary Anil Goswami, asking him to quit.
Uttarakhand Governor Aziz Qureshi has dragged Modi govt to SC alleging that government presented him with two options - quit or be sacked. The union government, however, has clarified that Qureshi was never asked to quit.