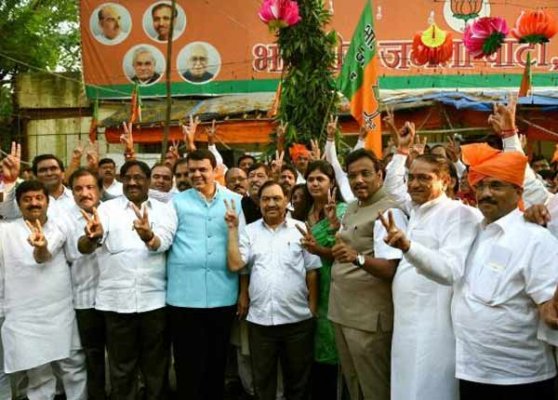 Mumbai: The process of government formation in Maharashtra is expected to be expedited with a meeting of Bharatiya Janata Party (BJP) party legislators likely to be held in Mumbai on Monday.
"A meeting of BJP legislators is likely on Monday," a party functionary said in Mumbai on Friday, adding that state unit chief Devendra Fadanvis was the front-runner for the Chief Minister's post.
"There are no developments expected during Diwali. The action will start next week," he said.
Republican Party of India (RPI) leader Ramdas Athawale, who met Shiv Sena president Uddhav Thackeray on Friday, said Uddhav was very keen on forming the government in alliance with the BJP.
However, there is no word yet from the BJP on the former ally's overtures.
"The BJP legislature party leader would be elected after Diwali. Central observer Rajnath Singh will be in Mumbai after Diwali, and the new leader, who will become the Chief Minister, would be elected in his presence," the BJP functionary said.
State BJP chief Devendra Fadnavis was the front- runner for the CM's post, he said.
The party was using the interim period to shortlist those who would be in the ministry.
So far, the focus is only on having the BJP legislators in the ministry, he said, declining to comment on whether Sena may find a place in the new dispensation.
The BJP has 122 members in the 288-member House and is all set to meet Governor Vidyasagar Rao to stake claim to form the government after Diwali.
With NCP offering 'unconditional' outside support, some BJP leaders feel the Sena is no longer in a position to dictate terms.
Meanwhile, the BJP is making attempts to get backing of independents and small parties.
"We have so far secured support of seven independents and the Bahujan Vikas Aghadi which has three members. Talks are on with Peasants and Workers Party which has three MLAs," the BJP leader said.