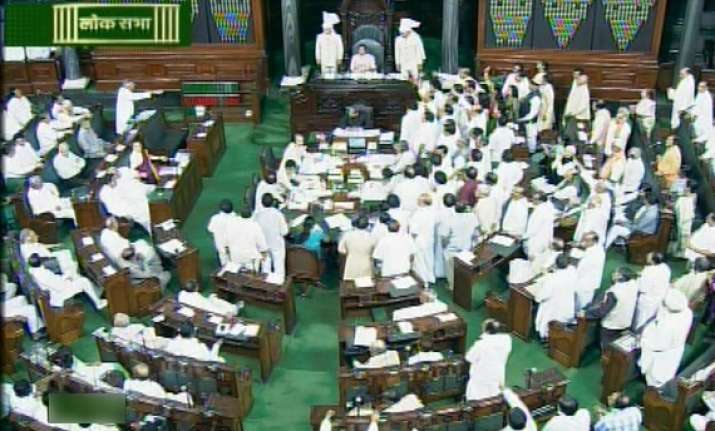 New Delhi, Dec 19: Lok sabha was adjourned till noon today following uproar over a bill to provide reservation to SCs/STs in promotions in government jobs, which is listed for discussion and passage by the House.  
As soon as Speaker Meira Kumar called for the Question Hour, SP members trooped into the Well raising slogans against the Constitution (117th Amendment) Bill.  
"Promotion main aarakshan, nahi chalega, nahi chalega (We do not want reservation in promotions)," the SP member shouted.
To counter the SP onslaught, Congress members were in the aisles raising slogans in favour of the Bill and urging the Speaker to evict the SP members.
"Dalit Virodhiyon ko bahar karo (Evict those opposing Dalits)," the Congress members chanted. 
TDP and Shiv Sena members were in the Well raising slogans for increasing cotton prices to Rs 6,000 per quintal.
They were waving placards for better prices for cotton.  
The Speaker continued with the Question Hour for a while but as members were unrelenting, she adjourned the House till noon.
The Constitution (117th Amendment) Bill which provides for quota for SCs and STs in government job promotions was passed by Rajya Sabha on Monday.
The Bill is listed in the Lok Sabha for consideration and passing today.