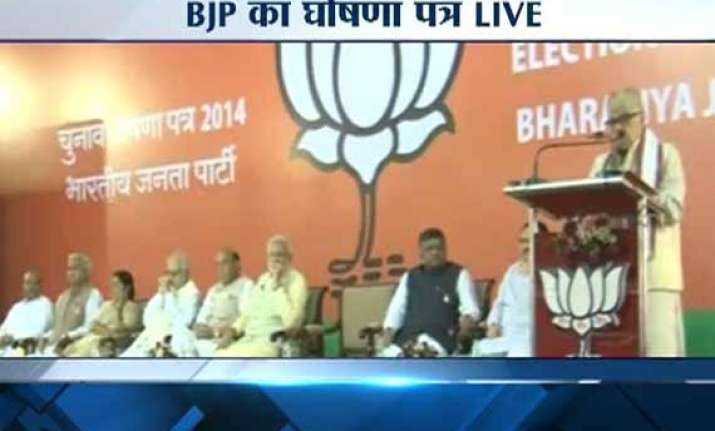 New Delhi: The BJP today released its much-awaited manifesto today.
Senior party leader Murali Manohar Joshi released the manifesto in presence of L K Advani, Sushma Swaraj and party's PM candidate Narendra Modi.
The party has once again reiterated its commitment to constructing Ram Temple in Ayodhya.
The manifesto says that the party will explore all possibilities within the framework of the constitutionto facilitate the construction of the Ram Temple in Ayodhya.
The party manifesto focusing on improving the country's economy and infrastructure, ending policy paralysis and curbing corruption.
"We have chalked out a plan to improve the economic situation in the country in the manifesto. As far as infrastructure is concerned, improving manufacturing is important and it needs to be export oriented. We need to build a Brand India," said Joshi.
"The sooner we do it the better it would be to generate more jobs," he added.
On Foreign Direct Investment (FDI), the Bharatiya Janata Party (BJP) leader said barring FDI in multi-brand retail, the party was not opposed to the FDI as it will create employment.
Here we are giving you live updates of BJP's manifesto release: