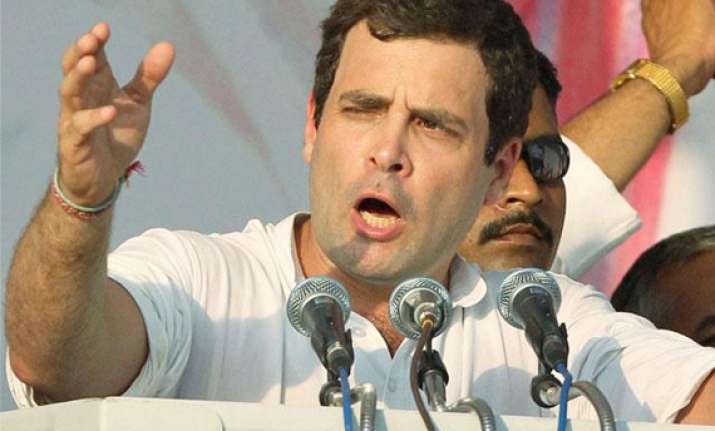 Wardha (Maharashtra): Congress vice president Rahul Gandhi today ridiculed BJP for floating their victory balloon in the ongoing election campaign and said that their balloon will burst this time too, the way it happened in 2004 and 2009.
Addressing an election rally in Wardha, Rahul Gandhi said,"They are again floating their gas filled balloons. Their 'India Shining' balloon was burst in 2004 by people. Their baloon was burst again in 2009. Once again, their balloon will meet the same feat."
Expressing the need to pay more attention to the issues of farmers and women , Rahul said," Now nobody can snatch your land. You get 4 times money for your lands. Sometime back your state witnessed both hailstorm and drought. The govt came to your rescue both the time. We have women present here. This country has 50 percent women. This nation can't become a superpower unless there is enough representation of women in different sectors. We have introduced women bill in parliament but the opposition parties are allowing its passage."
"When you said that 9 subsidised cylinders are not enough and that it should be increased to 12, I spoke to both PM Manmohan Singh and Congress president Sonia Gandhi and they agreed for this within 2 minutes. We have done a lot for providing employment to the youth. We want our youth the make all the items that are today made in China. The people belonging to the lower strata of the society consisting of coolies and carpenters aspire for better education to their children. They also want to become part of middle class and we will help them in achieving that status," added Rahul.
Reminding people that Congress has empowered people through legislations like RTI and food security, Rahul said, "We would try to fulfill all your demands. In last 10 years, the UPA government worked for the poor people. We give food security to crores of people. We have given them the power of RTI. You can ask questions to your government. For the first time in history, so many people were brought over poverty line."

Here we are giving you live reporting of Rahul Gandhi's rallies: