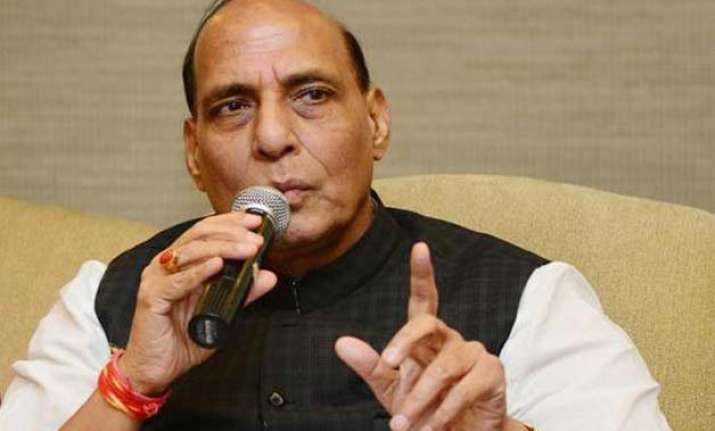 Kolkata: Union Home Minister Rajnath Singh today criticised the law and order situation in West Bengal saying it needed to improve and reports of crude bombs being made in the state was a matter of 'serious concern'.
"The NIA is an autonomous body and is doing its job (investigating Burdwan blast). But as far as law and order situation is concerned in Bengal, we think it needs to improve. Lot of things need to be done regarding it.
"The way reports of crude bombs being made in Bengal are coming up, it is a matter of serious concern. We assure the state government all kinds of assistance for the sake of development and improvement in the law and order situation," Singh said at a press meet here.
Singh's criticism of the law and order situation in Bengal comes in the backdrop of opposition allegations of bonhomie between the ruling Trinamool Congress and BJP-led NDA government at the Centre.
Also in the background is the Pingla blast which claimed 12 lives and a bomb blast in a local train.
Asked to comment on media reports of radical outfits like Jamaat-ul-Mujahideen Bangladesh (JMB) trying to set up base in Bengal with the help of a section of ruling Trinamool Congress, Singh said "As I said, the central government will provide all kinds of assistance to the state government to tackle such kind of activities."
Opposition CPI(M) and Congress had alleged that Chief Minister Mamata Banerjee's sharing of dais with Prime Minister Narendra Modi at a IISCO program in Burnpur was the result of an understanding between BJP and TMC that CBI would go slow on the Saradha scam probe and the latter would help BJP in passing of bills in Rajya Sabha where the saffron party does not have majority.