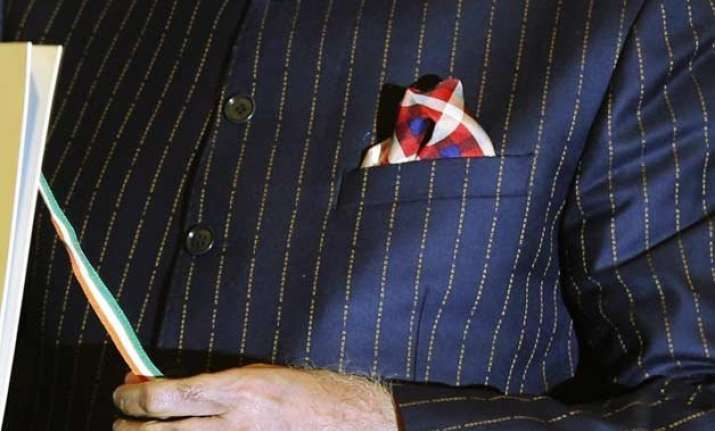 Lalji Patel of Dharmananadan Diamond purchases Modi's bandhgala suit for Rs 4.31 cr
New Delhi:
There was a scramble to claim Prime Minister Narendra Modi's pinstripe monogrammed suit with bids going higher on the third and final day of the auction here in Surat.
05:11 pm: Lalji Patel of Dharmananadan Diamond has finally purchased Modi's suit for Rs 4.31 crore
04:59 pm: Lalji Bhai offers Rs 3.55 crore
04:57 pm: Vimal poddar offers Rs 3.41 crore
04:47 pm: Komal Kant Sharma offers Rs 29500200
04:25 pm: Businessman Chandresh Oza offers Rs 2.81 crore 
04:03 pm: Kamal Kant Sharma of Bhavnagar offers Rs 27099999 for suit
03:44 pm: Businessman Mukesh Patel offers Rs 2.65 crore for Modi's suit 
03:34 pm: Businessman Rajesh Jain offers Rs 2.52 crore for pinstripe monogrammed suit
03:08 pm: Businessman Vipul Shah offers Rs 2.51 crore for Modi suit
02:40 pm: Mukesh Patel and Sanjay Movaliya offer Rs 2.31 crore for Modi's suit
02:12 pm: Hitesh Patel offers Rs 2.11 crore for the suit
01:59 pm: Rajesh Jain offers Rs 2.09 crore
01:43 pm: Diamond merchant Hitesh Patel offers Rs 2.08 crore for the suit
01:41 pm: Diamond businessman Vipul Shah offers Rs 2.05 crore for the suit
01:15 pm: Suit bid crosses Rs2 crore mark. Mukesh Patel from Surat offers Rs 2,00,92,000
11:50 am: Builders Jatin bhai and Luvji bhai offer Rs 1.81 crore for the suit
11:13 am: Hitesh Patel of Dharmanandan Diamonds offers Rs 1.75 crore for the pinstriped suit
Yesterday, two bids of Rs 1.41 crore and Rs 1.39 crore were received in quick succession for the suit that Modi wore during US President Barack Obama's India visit last month, eclipsing the earlier offer of Rs 1.25 crore made this morning.
Bhavnagar-based Ship-breaker and diamond trader Komalkant Sharma, who is CMD of Leela Group of Companies, had offered Rs 1.41 crore for the two-piece suit, which according to some reports cost nearly Rs 10 lakh.
"He (Sharma) has bid for Modi suit as it is for the good cause of `Clean Ganga Mission'. He will be here tomorrow and, if necessary, he will increase the bid amount," Sharma's representative Chirag Mehta, who had come to submit the written bid, told PTI.
Few minutes prior to that, Surat-based diamond trader Mukesh Patel had made a bid of Rs 1.39 crore.
"There are many items but I preferred Modi suit. I will keep that incredible suit like a diamond," Patel said, adding that he was inspired by by the Prime Minister's 'Clean Ganga Mission'.
"When Narendrabhai was chief minister of Gujarat, he held such auctions for education of the girl child. Now, he is Prime Minister and he is making an appeal to clean Ganga. That is the reason that I made this bid," Patel told PTI.
Earlier, Surat-based Rajesh Maheshwari, who has established a 'Global Modi Fan Club', made an offer of Rs 1.25 crore, Rs four lakh more than yesterday's highest bid which ended at Rs 1.21 crore.
"We are true supporters of Modi and that is the reason we made the bid of Rs 1.25 crore," Maheswari said.
"We are 5,000 friends on various social networking websites. Yesterday, I made a proposal to make this bid and they agreed. If each person provides Rs 50,000 then the amount can be easily generated," he said.
Maheswari said the suit could be given on rent for weddings or for allowing people to click selfies to generate money which can then be used for a good cause.
Yesterday, another textile businessmen Rajesh Juneja had made a written bid of Rs 1.21 crore for the navy blue suit, which is the star attraction at the three-day auction which ends tomorrow. There were four other bids of less than Rs 1.21 crore.
The suit, that kicked up a political controversy, is being auctioned along with 455 items that Modi received as gifts during his nearly nine-month tenure to generate funds for the 'Clean Ganga Mission'.
Congress, AAP and TMC had yesterday called the auction a "damage control" exercise.
Congress had demanded that the process of auctioning be stopped immediately and the suit deposited with the 'Toshakhana' (treasury).
The auction at the Science Convention Centre will close at 5 PM tomorrow after which the articles will be handed over to the highest bidder.