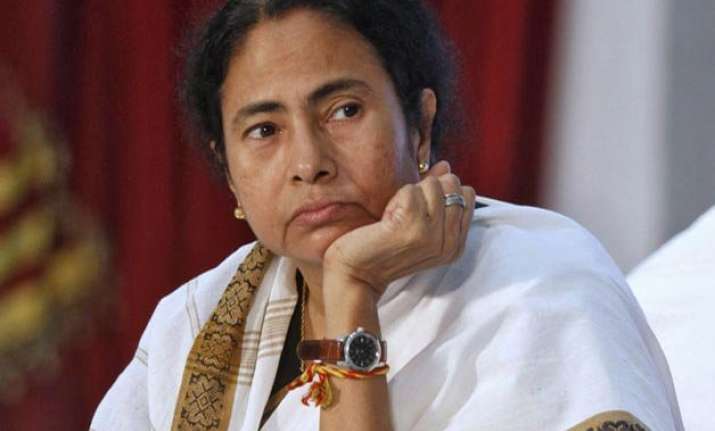 Burdwan:  Virtually rejecting the Modi government's land bill, West Bengal Chief Minister Mamata Banerjee today said the state was already following an "alternative" land acquisition policy and asserted she will not accept even "one per cent forcible land acquisition".
Banerjee, who was among the four non-Congress chief ministers to have not attended the meeting of the Governing Council of the NITI Aayog, said her state was following an alternative land policy as it "cannot wait indefinitely for the Centre to come up with its land acquisition policy".
"We have framed an alternative land policy where direct purchase can be done through negotiations without any forcible acquisition," the Chief Minister said at the 100th administrative meeting of the Trinamool Congress government in Burdwan.
"We cannot wait when all (parties) will agree, when this bill will be passed. Everybody should form land bank. We have formed land bank, land use policy and land map. We have taken land from this bank to set up industrial parks," she said.
Banerjee said her government had been able to complete various projects through direct land purchase after holding negotiations with the owners.
She said the government had to do this because many projects were getting stalled in the absence of Centre's land acquisition policy, which was pending.
"We cannot wait indefinitely for the Centre to come up with its land acquisition policy, so we have started following this model. We have taken the people into confidence while acquiring land," the chief minister said.
Citing instances where the state had been able to make available land for big projects, Banerjee said the Andal greenfield airport and NTPC's Katwa project were among them.
Referring to Singur, which had witnessed violent protests by her party against land acquisition for Tata's Nano project, which ultimately had to be shifted to Gujarat, she said, "There was a procedural mistake. But for others there had been no such issue."
Chief Ministers of nine Congress-ruled states and those of West Bengal, Tamil Nadu, Uttar Pradesh and Odisha today kept away from NITI Aayog's meeting called to discuss various issues, including the land bill, where Prime Minister Narendra Modi said the deadlock over the legislation was adversely impacting rural development.