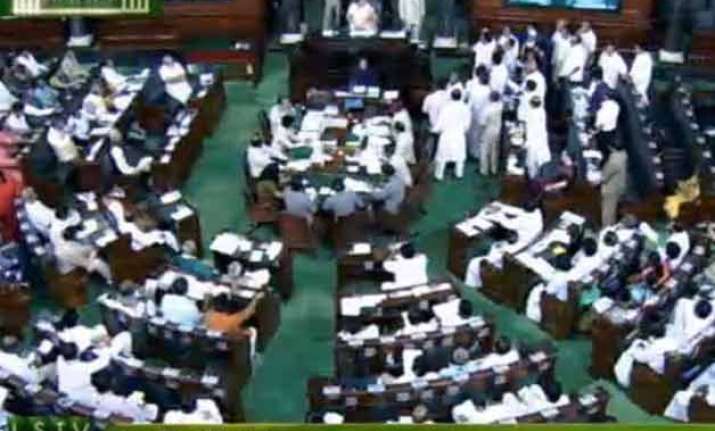 New Delhi: The Narendra Modi government today introduced the 'contentious' Land Acquisition Amendment Bill in the Lok Sabha.
The Right to Fair Compensation and Transparency in Land Acquisition, Rehabilitation and Resettlement (Amendment) Bill, 2015 was tabled by Rural Development Minister Chaudhary Birender Singh.
"I have received the objections of the members but this can be discussed when the bill is taken into consideration," Singh said.
As soon as the bill was brought, Opposition members staged walkout.
ALSO READ: Land Act 'suitably refined': Pranab Mukherjee
Lawmakers of Congress, Samajwadi Party, CPM, AAP barged into the well of the House and raised slogans against the NDA government.
Congress president Sonia Gandhi and Samajwai Party chief Mulayam Singh Yadav also opposed the Bill from their chair in the House.
Meanwhile, Prime Minister Narendra Modi today morning chaired the BJP Parliamentary Board meet.
At the meeting, he said, "Amendments to Land Acquisition Bill based on suggestions by Congress-ruled states. Government will not be on backfoot on it."
Modi also asked the BJP MPs to bust 'myths' propagated by opposition on Land Bill.
The Rajya Sabha also witnessed a ruckus over the issue as opposition members demanded a discussion on the bill, leading to the suspension of the business of the House.
Heated arguments were witnessed between the ruling and opposition benches as the opposition alleged that the government was trying to bypass Parliament while the government denied it.
Leader of the House and Finance Minister Arun Jaitley, however, said it was unfair to say the government was bypassing Parliament.
"No law can bypass the House. My friend should remember 636 ordinances have come and 80 per cent of them came when Anand Sharma's (Congress) party was in government," Jaitley said.
"There were 70 ordinances passed by the government of first prime minister of India (Jawaharlal Nehru). When my communist friends had the United Front government, in 18 months 77 ordinances came... So saying that we bypassed Parliament is not fair," the Minister reminded the Rajya Sabha.
The new Bill will replace the ordinance promulgated by the government in December last year, which had brought changes in the earlier bill passed in 2013 by the erstwhile UPA government. The government had promulgated the ordinance making significant changes in the Land Act including removal of consent clause for acquiring land for five areas --industrial corridors, PPP projects, rural infrastructure, affordable housing and defence.