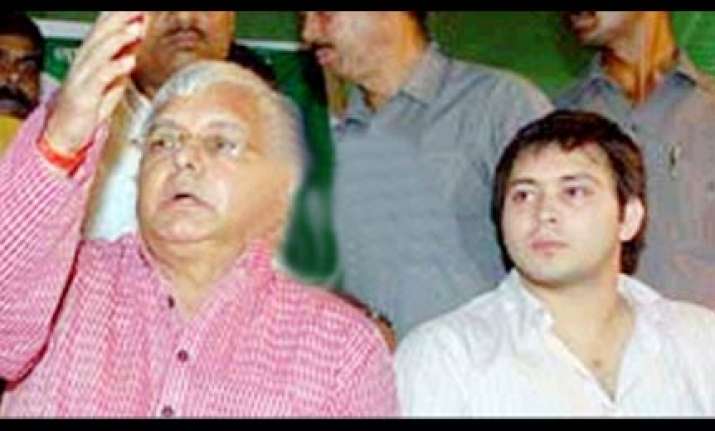 Patna , Oct 27: The BJP today claimed that RJD supremo Lalu Prasad and his LJP counterpart Ramvilas Paswan, knowing that their alliance would be defeated in the Assembly elections in Bihar , were using them to launch the political careers of their sons Tejaswai and Chirag.
"Both Lalu and Paswan know very well the electoral fate of their alliance. The writing is on the wall that their alliance will face a humiliating defeat," BJP spokespersons Rajiv Pratap Rudy and Syed Shahnawaz Hussain told a joint press conference here.
"The two leaders are therefore utilising the 2010 elections as an opportunity to launch their sons in Bihar politics. We convey our best wishes to them," they said.
The Congress too knew about its "negligible presence and support" in the state and therefore was spending a great deal of time in paperwork filing complaints against political opponents out of sheer desperation, Rudy claimed.
He was apparently referring to the state Congress approaching the Election Commission seeking action against JD(U) national president Sharad Yadav for his alleged remarks against its AICC General Secretary Rahul Gandhi.
Hussain ridiculed Congress leaders for making a mountain out of a molehill on Sharad Yadav's remarks and said his statement was being placed "out of context to score political mileage".
Pooh poohing claims of crowds at election meetings of Rahul Gandhi in Bihar, Hussain and Rudy said, "People must realise that youths of Bihar have no attraction for leaders from outside the state. There is no substance in the claim."
Questioning the seriousness of the Congress towards development in the state, Hussain asked its leaders why any of them failed to make it to the central ministry.
"Had the party been serious, it would have ensured representation from Bihar in the Union Ministry. It speaks volumes about the Congress' apathy  towards the state's development," he said. PTI