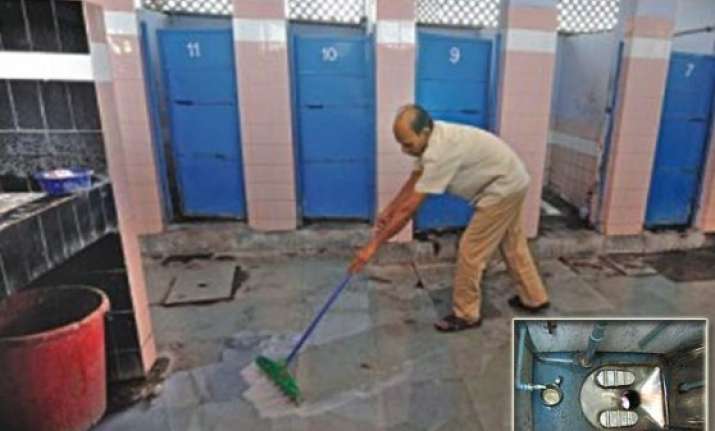 Bangalore: A Travellers Survey conducted by the travel portal HolidayIQ.com reveals that 88.31 pc of travelleters from seven top cities of India are put off by stinking toilets at Indian railway stations.
87.90 pc travellers said, they were put off by toilets at public places in Indian cities, while 71.51 pc said, they were put off by toilets built in  public places on highways.
A whopping 79.17 pc travellers said, toilet facilities at tourist, pilgrimage and heritage spots, like beaches and temples, were disgusting.
The survey said, 37 pc travellers changed their intended holiday destinations due to lack of proper toilet facilities, while 54 pc travellers changed their modes of transport (from train to bus or flights), because of stinking toilets.
The HolidayIQ survey was conducted among more than 10,000 travellers from Delhi, Mumbai, Bangalore, Chennai, Kolkata, Hyderabad and Pune.
This is how they rated the cities on Dirtiness Quotient: Kolkata topped with 74 pc, Mumbai 72 pc, Chennai 71 pc, Pune 50 pc, Delhi 47 pc and Hyderabad 31 pc. Not a single Indian metro has the cleanest public toilets, said 59 pc of the respondents.
The survey says, India direly needs a toilet revolution.
Of the 1 billion people who have no toilet throughout the world, India alone accounts for nearly 600 million. Travellers in India often complain about standing in long queues outside stinking toilets and rank it amongst the worst tourist experiences in the world..
52 per cent of women travellers said they had to change their intended holiday destination or mode of travel owing to discomfort with the level of cleanliness.