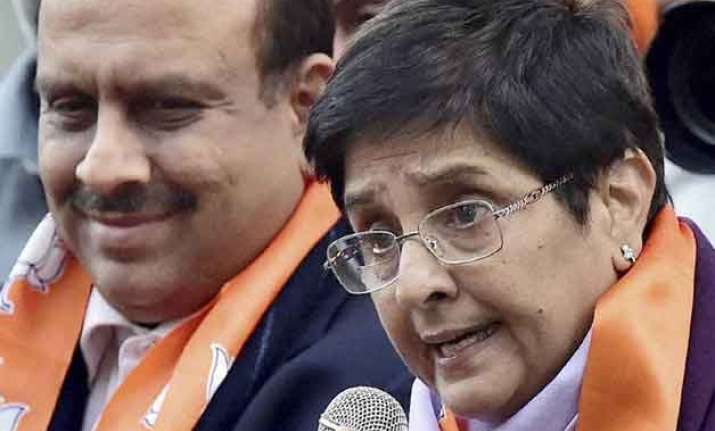 New Delhi: Promising to take a slew of steps to ensure women' security, BJP's chief ministerial nominee Kiran Bedi today said "students' police" will be set up and those found indulging in eve-teasing will not be spared if BJP comes to power in Delhi.
Addressing a rally in South West Delhi's Dwarka in presence of Prime Minister Narendra Modi, Bedi said women's security was "very high" on her agenda and that she has already discussed the issue with civil defence personnel.  
"I have already talked to civil defence people. More than 3000 people are ready take to the streets to provide security to women. The numbers are going to rise," she said.  Bedi said she also has plans to establish "student's police" modelled on similar forces in Kerala.
"We will attach you (youths) with police stations so that they can see how police stations work. They will be sent to PCR vans as well, " she said.
Issuing a stern warning to those indulging in eve teasing, Bedi said those found guilty of it will be punished.  "I am warning that if anybody does eve teasing, he will be caught. We have to work along with the police. I have already given 'Kiran's blueprint'. Women's security will be taken up seriously," she said.
She said she had already discussed with Union skill development minister Rajiv Pratap Rudy on how to provide facilities for skill development in slums and unauthorised colonies.
"Jhuggis do not have vocational training or polytechnics ... we will give it to them," she said.  Urging Prime Minister Narendra Modi to provide "youth trains", Bedi said that during summer vacations youths can go on "Bharat Darshan" and visit the North East region.  She said that if voted to power, children will be connected to social services like running literacy campaigns in slums.
"During summer vacations, those children who remain in Delhi, we will connect them to social services. Where there is illiteracy in jhuggis, those children will take part in literacy campaign. We will make such provisions so that children who take part in this get extra marks," the chief ministerial nominee said.
Promising to set up sports universities, she said although there were lots of sports infrastructure in Delhi, most of them lie vacant.
She said government colleges or buildings will not be closed in the afternoons as they will be utilised as polytechnics or management schools as per the needs of the area.