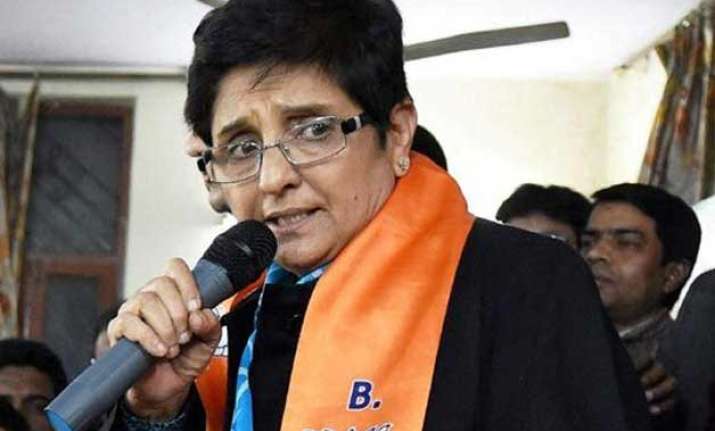 New Delhi: BJP's chief ministerial Kiran Bedi got a lukewarm response during her first rally at Trilokpuri, which had witnessed violent clashes in October last year.  Few people came out of their houses initially, while some households were even seen to have kept their windows shut as the rally passed through the narrow lanes of the area.  
However, gradually people started coming out of their houses as Bedi ventured into the interior lanes of Trilokpuri.  A group of people also offered her flowers and garlanded her.  The BJP chief ministerial candidate, who had severe throat infection, used expressions and gestures to express herself.  
Bedi was accompanied by BJP candidate Kiran Vaid, wife of ex-MLA, Sunil Vaid who had passed away last month following a brain haemorrhage, and also former AAP MLA Vinod Kumar Binny.  She waved to the crowds and halted at a point where she patiently heard the issues of the residents of Shashi Garden.  
As the residents complained about irregular water supply, frequent power cuts and lack of security for women in the area, Bedi held the hands of women assuring them by her gesture that she has taken a note of their problems and she will look into them if voted to power.
AAP leader Manish Sisodia had won the seat by a large margin in the 2013 Assembly elections.  During her previous rally held at Patparganj, a stronghold of AAP, a huge crowd had gathered into the street to welcome the leader.
"I have always seen her on television. I am feeling really great after seeing her today. She is so strong and confident.  I am sure women of Delhi will become secure if she becomes the CM," said Shashi, a housewife in Patparganj.  Her rally in Kondli could not take place as they had crossed the permissible time given by the EC. But Bedi still went at around 10.20 pm to the Kondli party office and met the party workers there.