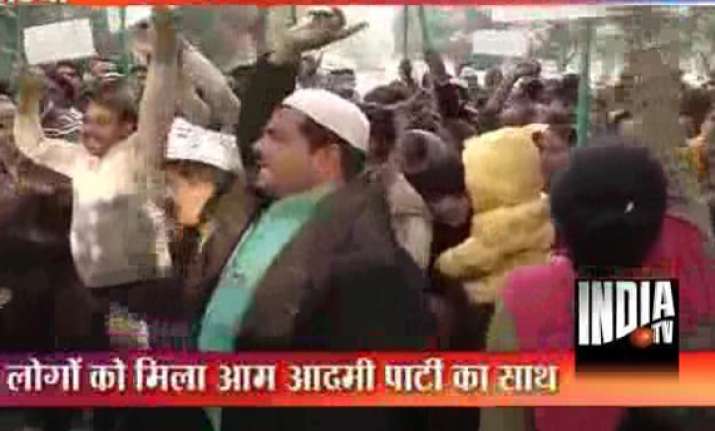 New Delhi, Dec 7: AAP leader Arvind Kejriwal and scores of people were detained from outside Chief Minister Sheila Dikshit's residence today during their protest against demolition of buildings in a south Delhi locality.
Over 100 people had gathered outside Dikshit's 3-Motilal Nehru Marg residence at 7 AM while Kejriwal joined them an hour later to protest demolition of their houses in Shaheenbagh near Okhla and demanded an audience with her.
The protesters continued their demonstration outside the Chief Minister's residence but police detained them around 12:30 PM as they refused to leave the place.
Kejriwal and other AAP leaders Manish Sisodia and Kumar Vishwas were among others who were detained, a senior police official said.
A large number of police personnel were deployed at the spot to avoid any untoward incident. Police barricaded one side of road from Janpath side which has the entry gate to Dikshit's residence.
Protesters shouted slogans against the government action.
"The land where these people are living is there land, they have documents of it. But it's unauthorised because you have to get the map passed by the government," Kejriwal said.
"But on October 4, 2010 Sonia Gandhi had announced that 1600 colonies will be regularised, this colony is also one of them. But despite that 500 houses were demolished," he said.
He alleged showrooms nearby were not razed.
"We were asking for Dikshit's time which was not given.
We are not here for a clash with the government but a sit in protest," he said.
Kejriwal alleged that it seems that this is part of a "huge land grab scandal" to give land to "some builder".
"This is so scary. These people have valid papers of their houses. Still razed? For her greed, would she demolish just about any house in Delhi," he said.