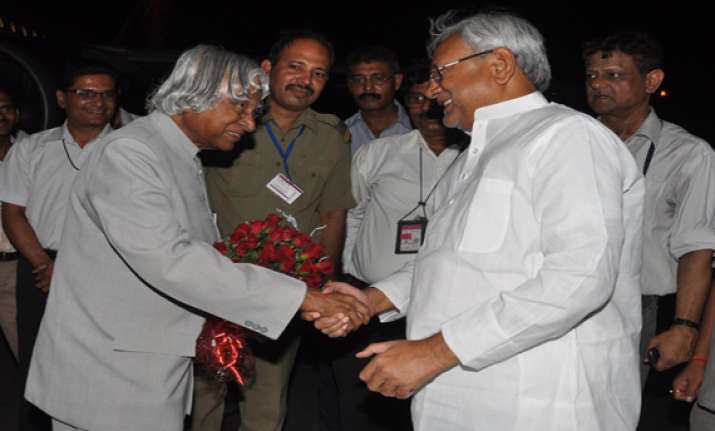 Patna, Jun 15: Former President A.P.J. Abdul Kalam today had a 75-minute luncheon meeting with Bihar Chief Minister Nitish Kumar at the latter's official residence here.  
The former President and the Chief Minister were understood to have had discussion on a range of issues, including the Presidential polls in which West Bengal Chief Minister Mamata Banerjee had announced Kalam to be her party's choice as the candidate, official sources said.  
The two leaders also discussed education and science and technology, besides development of Bihar, the sources said.
Kalam also gave a copy each of the books 'Target Three Billion' and 'Happy and Prosperous India', an official release said.
The mediapersons of both electronic and print medium besides, photographers were also allowed entry at the Chief Minister's residence for coverage of Kumar's luncheon meeting with the former President.
Prior to attending lunch hosted by the Chief Minister, Kalam visited the office of a vernacular daily 'Prabhat Khabar' and held interactive meeting meeting its journalists in the role of the guest editor for the day, the sources said.