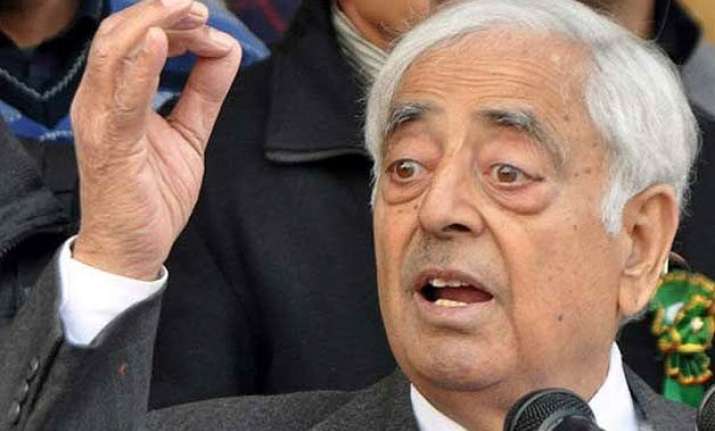 Jammu: J&K Chief Minister Mufti Mohmmad Sayeed today said that he joined hands with BJP to "put an end to uncertainty in the state", asserting that he has "no aspiration for power".
"Mufti does not have aspiration for power. This coalition which I have formed is not for power," he said.
Speaking at a function to commemorate the birth centenary of late Congress leader Girdhari Lal Dogra, Mufti underlined the motive behind the PDP-BJP coalition in the state government.
"When I joined hands with BJP and when I say it is meeting of North and South pole, it is because I have a dream that this uncertainty will come to an end and a peaceful and conductive environment would be created," he said.
The PDP leader noted that the integration of Jammu and Kashmir with the rest of the country is of vital importance.
"It is my dream that we want to connect J&K with the country, but we could not connect Jammu with Kashmir. I want to promise the people of J&K that we want to do justice and end the sense of discrimination in the state.
"We have done justice with all the three regions of J&K --Ladakh, Kashmir and Jammu during my 2002-2005 rule", he said.
Mufti said that his government will take necessary steps to "change the destiny of J&K" and will try to "resolve contradictions".
"I want to say that we will change the destiny of J&K. Former PM V P Singh used to say politics is an art of possibility of managing contradictions. It is my dream that we have support of everybody and we will try and resolve contradictions," he said.