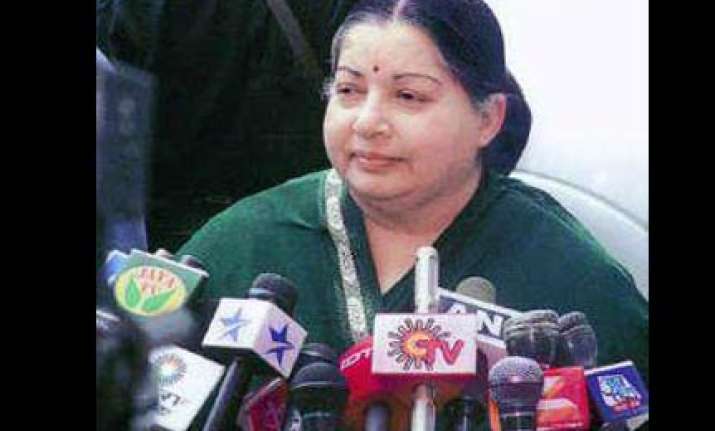 Chennai, Nov 16 :  Terming as "most unfortunate" the Government's rejection of opposition demand for a JPC probe into the spectrum issue, AIADMK chief Jayalalithaa today questioned why the UPA was shying away from it if the ruling alliance partners felt their hands were clean.
Strongly pitching for a Joint Parliamentary Committee probe, she said the JPC has more authority than Public Accounts Committee and can call not just the government officers but everybody connected with the issue for inquiry.
Jayalalithaa in a statement here described as "most unfortunate" Union Home Minister P Chidambaram's "offhand" reaction of the Opposition demand for a JPC probe.
It reflects the "insensitivity of the government to the combined voice of the Opposition on an issue in which not just Raja, but the Government of India itself is in hot waters", Jayalalithaa said.
Agreeing that it was the normal practice for issues raised in a CAG report to be taken up by the PAC, she said "but a Rs 1,76,379 crores scam is certainly not a normal situation. It is abnormal to say the least".
"It therefore requires to be handled appropriately," Jayalalithaa said, adding a JPC probe alone would be proper under the circumstances.
Stating that the scope of the PAC was limited as it could only go into accounting discrepancies, if any, and also it cannot recommend prosecution, she said JPC alone could examine all angles and make recommendations for appropriate action.
"A JPC is a more representative body than the PAC, including senior members of both Houses of Parliament and a wider cross-section of political parties", she said, noting it has authority to call not just the officers of the Government but everybody connected with the scam for inquiry.
"If all the alliance partners of UPA, barring the DMK of course, are clear that their hands are clean, why should they shy away from a JPC probe?, Jayalalithaa said.