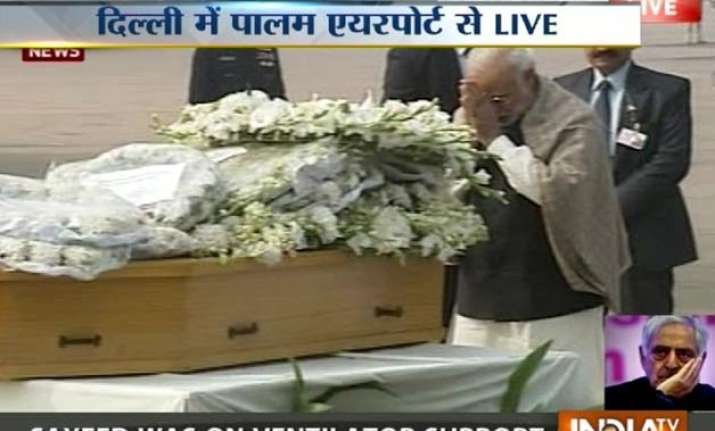 New Delhi: Jammu and Kashmir Chief Minister Mufti Mohammed Sayeed died this morning at the All India Institute of Medical Sciences (AIIMS) where he was admitted for the past 15 days.
The All India Institute of Medical Sciences said he breathed his last at 9.10 am. "We tried to revive him but failed to," an AIIMS spokesperson said.
Mehbooba Mufti, daughter of deceased CM Mufti Mohammed Sayeed and president of Peoples Democratic Party (PDP) is expected to take over as the first woman chief minister of Jammu and Kashmir, sources said.
While there is unanimity among the PDP over CM's choice, its main alliance partner BJP has also indicated its support for her elevation to the post.
Updates:
* Mufti Mohammad Sayeed's mortal remains reach his residence in Srinagar.
* J&K government announces 7-day mourning as mark of respect to late CM Mufti Mohammad Sayeed
* PM Narendra Modi pays tribute to late Mufti Mohammad Sayeed at Palam Airport
* Going to Srinagar to participate in the last rites of late Mufti Muhammad Sayeed sahab: Rajnath Singh
* I express great shock over his untimely demise, its sad for all of us: J&K Deputy CM Nirmal Singh
* Mufti Mohammad Sayeed will be laid to rest at his ancestral town of Bijbehara later in the day: Abdul Ghani Kohli, J&K Transport Minister
* University of Kashmir & State board of school education postpones all examinations in view of the demise of J&K CM
* We are saddened, he was a hard-working man: Congress leader Ghulam Nabi Azad
Sayeed, 79, is survived by his wife, three daughters including PDP President Mehbooba Mufti, and a son.
The mortal remains of the Chief Minister would be flown to Srinagar where the body will be kept for people to have the last glimpse of their leader. He is likely be buried in his ancestral village in South Kashmir.
Sayeed was admitted with complaints of fever and neck pain on December 24 after which the doctors at AIIMS diagnosed him to have sepsis, decreased blood counts and pneumonia.
He was in the Intensive Care Unit of AIIMS and during hospitalisation his platelets had dropped dangerously low. For the past few days, the Chief Minister was on a ventilator.
Sayeed took over as chief minister of PDP-BJP coalition on March 1 last year.