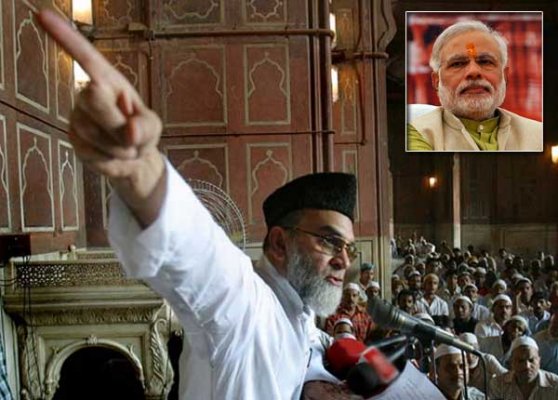 New Delhi: A fresh controversy has been created with the Shahi Imam of Delhi Jama Masjid Syed Ahmed Bukhari sending invitations for the 'dastarbandi' of his successor Naib Imam to Pakistan Prime Minister Nawaz Sharif, Congress President Sonia Gandhi, Vice President Rahul Gandhi and Home Minister Rajnath Singh, but declining to send the invite to Prime Minister Narendra Modi.
The invites have also been sent to Samajwadi Party chief Mulayam Singh Yadav and UP chief minister Akhilesh Yadav, apart from West Bengal CM Mamata Banerjee, BJP leaders Vijay Goel and Health Minister Harsh Vardhan.
Speaking to a news channel, Shahi Imam Abdullah Bukhari said, "Muslims of India do not recognize Narendra Modi as their leader, hence the invite has not been sent. He may have been elected the PM, but the Muslims of India do not accept him.
"Narendra Modi should first tender apology for the Gujarat riots", said Shahi Imam Bukhari.
The Shahi Imam said it was his personal prerogative to send invitations.
The 'dastarbandi' (anointment) ceremony is going to take place in Jama Masjid on November 22 with 19-year-old Syed Shaban Bukhari taking over as Naib Imam.
The first Shahi Imam of Jama Masjid Syed Ghafoor Shah Bukhari was called from Bukhara in Central Asia in 1656 by the then Mughal emperor Shahjehan, and since then the tradition has been continuing in the family.
About 1,000 Muslim religious scholars from all over the world are being invited. During the week following the ceremony, the Bukhari family will host at least three dinners - one for the ulemas, another for about 3,000 namazis in Delhi, and on November 29, for top diplomats from Muslim countries and politicians from India and abroad.