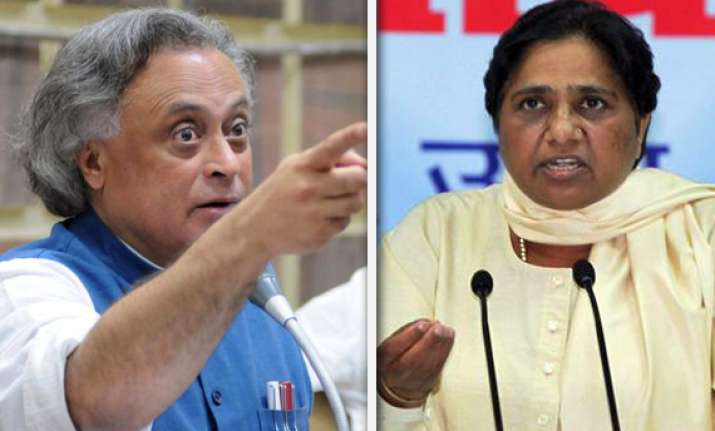 New Delhi, Nov 17: Rural Development Minister Jairam Ramesh has written a fresh letter to UP Chief Minister Mayawati over alleged irregularities in implementation of MNREGA in seven districts and demanded a CBI probe into it. 

In a 14-page letter to Mayawati, Ramesh cited the instances of alleged irregularities and corruption in implementation of the scheme in Balrampur, Gonda, Mahoba, Sonbhadra, Kushinagar, Mirzapur and Sant Kabir Nagar. 

Lamenting that there has been no action against the guilty, Ramesh said, "If the state government wants to act honestly and send a message to the people that it does not in anyway want to save those who have looted funds from the schemes, then I feel that you should ask for a CBI probe in these districts."

The letter was written on November 14, a day when the Congress launched its campaign in poll-bound Uttar Pradesh.  This is the second letter Ramesh has written to Mayawati on the issue.

Despite her announcement 19 months back that those guilty of the irregularities would be brought to book, no action has been taken, Ramesh said.

Citing an instance, he said no action has been taken against Chief Development Officer of Gonda about whose suspension there was an announcement, but it was never clear whether it was carried out.

"A CBI probe in the irregularities will send an unmistakable signal that those at the top of the government are determined to take action against those guilty of corruption," Ramesh said in the letter. 

In response to Ramesh's first letter Mayawati, had last month written to the Prime Minister stating that irregularities cited by the Union Minister in implementation of MNREGS in the state were "politically motivated". 

She had accused Ramesh of having a pre-conceived agenda and arriving at conclusions without taking cognisance of steps taken by her government.