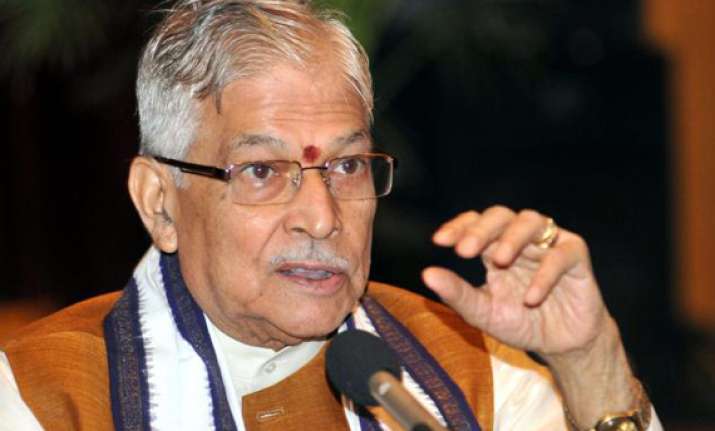 Jaipur: Describing the UPA government's ambitious legislation on food as "vote security bill", BJP leader Murli Manohar Joshi today said it is "more of laws" and will not fill bellies of poor.
The bill does not match the food requirement of any individual as prescribed in the international standards, "it was more of laws that would not fill up bellies of even poor,"Joshi told reporters here.
"As per the international norms, every adult should be provided 14 kg foodgrain while minor should get 7 kg.
"While UPA government's Food Security Bill will provide just 5 kg food," Joshi said. Who will provide "pulse and cooking oil", he asked.
"There should be sufficient and nutritious food for everyone who needs it," Joshi said, adding Chhattisgarh government was providing complete food to needy at Rs 5 only. The BJP leader was here to attend a function, celebrating Eid, Teej and Rakshabandhan festivals, organised by Muslim Rashtriya Manch.
Centre should have studied the Chattisgarh model of Food Security before introducing the bill in Parliament, he said.
The UPA government should concentrate on increasing agriculture production, specially of foodgrains, to meet the growing demand of huge population, Joshi said.
"Centre was reducing investment in agriculture, and, as a result agro-industries are facing crisis with shrinking job employment," he said.
Quoting a report, Joshi said,"About 2,137 farmers are quitting agriculture farming every day in the country and the day will not be far when India will have to import foodgrains."
"Thus, it is a vote security bill of the UPA government," he categorically said.
Referring to the remarks by some Congress leaders about Narendra Modi, in which he was referred to as frog and cockroach, Joshi said, "It is most unfortunate that the party posts are occupied by functionaries who are not political leaders. Hence, they have no moral authority, patience, tolerance, control on language".
When asked about the post Subramanian Swamy would be offered on Janta Party's merger with BJP, Joshi said, "They are welcome... Now they have come from their small home to bigger home... entire house is there... they have moved from 'kothari to haveli' (cell to mansion)".
"In Rajasthan Assembly polls, BJP led by Vasundhara Raje will form the government," he claimed.