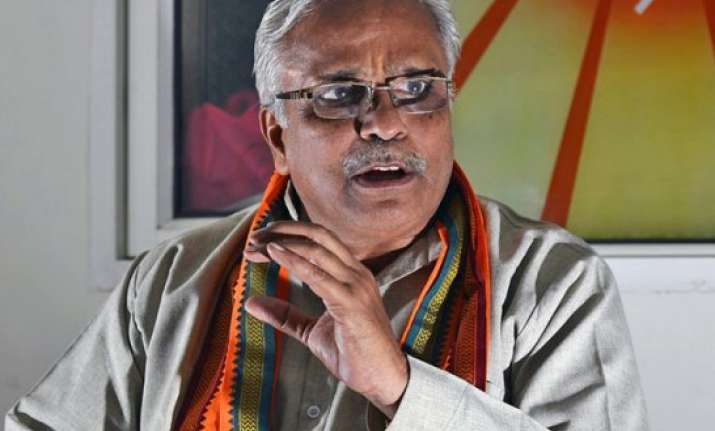 Lucknow: The RSS on Monday said it is up to the BJP to decide as to whose support it should take to form a government in Maharashtra where assembly polls have thrown up a hung house with the party falling short of a majority.

Speaking to reporters after the conclusion of a three-day conclave here, RSS general secretary Bhaiyyaji Joshi said the issue can be decided by BJP alone.

He was asked if the Sangh would be happy if the BJP allies with the NCP which they had been calling "corrupt" in the past.

"We have no role in it, it is up to the party to accept it or not. And if some party wants to give their support than it is upto that party to decide and think about it," he said.

Asked if the Sangh would support the decision to take support from that party, he insisted, "We don't have any role in it ... This is a political issue and political party leaders are mature and they will decide."

NCP has extended crucial "outside support" to BJP in Maharashtra.

Though Shiv Sena chief Uddhav Thackeray has made it clear that his party will not lend unsolicited support to BJP in forming the government, he had reportedly called up Prime Minister Narendra Modi and BJP president Amit Shah to congratulate them on the electoral victories in Maharashtra and Haryana.

Joshi said BJP's victory in Haryana and Maharashtra polls shows that the wave of change, which started from Lok Sabha polls, was still going on.

Asked if there was any strategy in place to contest the 2017 assembly polls in Uttar Pradesh, Joshi said it has to be decided by the BJP and it was not the responsibility of RSS to prepare ground for it.

When pointed out that RSS had helped BJP in Lok Sabha polls, he said the Sangh had not worked for the BJP but had tried to create awareness among voters to exercise their franchise in large numbers.

Asked if BJP was taking "U-turn" on the issue of bringing back black money stashed in foreign banks, Joshi said, "BJP is not taking a U-turn on black money issue. This should not happen. The complications in doing so should be cleared and the promise made in the manifesto should be fulfilled."

Speaking on the controversial issue of "love jihad", Joshi said this problem was there in society for over 15 years but it came to limelight after the case of shooter Tara Sahadeo.

"This is a social problem and should not be related with any community. The administration should take it seriously", he said.

On honour killing in Haryana and UP, he said youths should be made aware about it.

RSS would continue to protest against such incidents, he said.

To a question, Joshi said, "RSS is not working in any other country. It functions only within boundaries of India". The volunteers of RSS are trying to unite Hindus in other countries and in 45 countries such attempts are on."