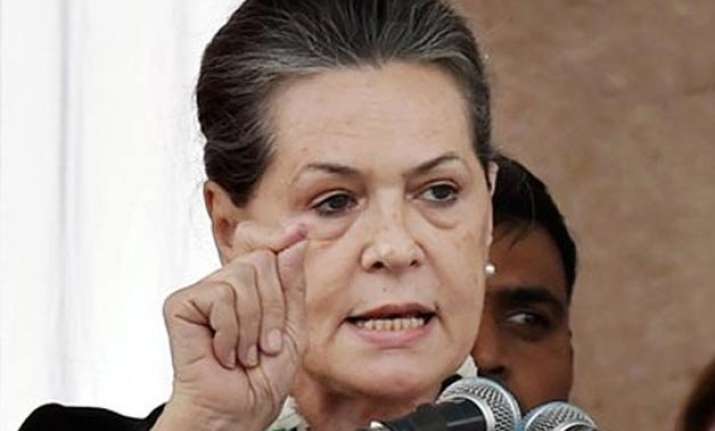 New Delhi: Amid raging controversy over former Union minister P. Chidmabaram's role in Ishrat Jahaan case, Congress president Sonia Gandhi today said Chidambaram has already  explained himself on the issue and we stand by him.
When asked whether the congress is being targeted, Gandhi said "What is nnew in it we were also targeted when were in government."
Gandhi made the comments after she chaired a strategy meet with the senior leaders of the party on Wednesday ahead of another turbulent Parliament session as the Bharatiya Janata Party (BJP) gave a breach-of-privilege notice in the Lok Sabha against the Congress`s chief whip Jyotiraditya Scindia and
BJP MP Om Birla has also given a notice in Lok Sabha on Ishrat Jahan case.
According to sources, the Congress has decided to go all guns blazing against BJP on the Ishrat Jahaan case
Sources also said that Congress will ask if Modi government will rely on ex-bureacrat RVS Mani's testimony as he is the same officer who had alleged that parliament attack was planned by Vajpayee government and 26/11 Mumbai attack was a brainchild of UPA government.
In fresh revelations, the former senior bureaucrat R V S Mani, who served as Under Secretary (Internal Security) in the Union Home ministry, has claimed that he was hounded, harassed and forced to sign on an affidavit that claimed that there was no proof that Ishrat Jahan and the four other people, who were killed in an alleged fake encounter, were terrorists. This affidavit, Mani claimed in an interview to Times Now, was not written by him and neither was he aware of its contents.
He has claimed that he was used as a rubber stamp by the government. His comments echo the claims of former Home Secretary G K Pillai who said last week that ex-Home Minister Chidambaram had changed the affidavit which clearly described Ishrat and her slain aides as LeT operatives.
Meanwhile, AIADMK members continued to shout slogans and gave an adjournment motion in Lok Sabha on P.Chidambaram's son Karthi's role in Aircel Maxis deal and his alleged huge overseas assets.
Union Minister of State for Parliamentary Affairs and Minority Affairs Mukhtar Abbas Naqvi said that govt was ready for discussion on Karti Chidambaram issue. AIADMK should give notice, adds Naqvi in Rajya Sabha.