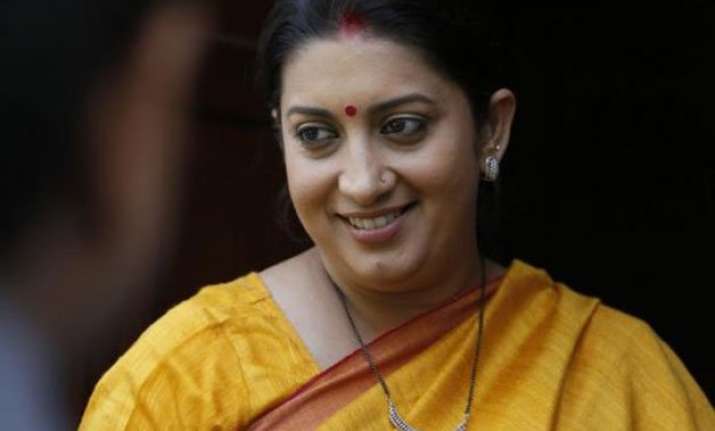 New Delhi: Congress today raised question mark over the 'competence' of HRD Minister Smriti Irani as it accusing her of 'interfering with autonomy of higher education institutions, following the resignation of eminent nuclear scientist Anil Kakodkar as Chairman of Board of Governors of IIT Bombay.
"The absolute incompetence of the HRD Minister is destroying institutions that have been nurtured over decades.  The morale of India's education sector is plummeting," party spokesperson Rajeev Gowda said and asked Prime Minister Narendra Modi to step in and take appropriate action to put the HRD Ministry back on track.
"The past 10 months have seen continuous denigration of higher education in this country. The HRD Minister has become a serial offender in blatantly subjugating the institutions of higher education by constantly interfering in their functioning.
"Whether it is the UGC, the IITs, the National Research Professorship Scheme in higher education or the Kendriya Vidyalayas on the issue of Sanskrit language, Smriti Irani has sought to kill the very basic spirit of autonomy that guided the emergence of every one of these institutions of excellence." Gowda said.
Congress spokesperson's remarks came in the wake of reports that Kakodkar resigned apparently because of differences with HRD Ministry over selection of some IIT Directors.
Kakodkar, whose tenure was supposed to end in May this year has, however, agreed to continue till that period after being persuaded by Irani who had a long telephonic conversation with him last evening, sources in the ministry said.
Gowda, who is also an academician, played safe when asked whether he was suggesting that Irani was not capable of holding the portfolio of HRD Ministry insisting that nobody is saying that this or that could be the criterion to be an HRD Minister or any other Minister.
"Anyone can contest elections, if they are perceived to have enough wisdom, they should be capable of running any Ministry. That is not the issue," he said, claiming that even earlier when Congress had attacked her it was not about her degrees but "the issue was of fudging of qualification."
Insisting that the HRD sector is in a state of "crisis", the Congress leader also saw a pattern alleging that "interference" had also happened during the previous BJP-led government when Murli Manohar Joshi was HRD minister.  
The Congress spokesperson, who is former Professor at the IIM Bangalore said," When I was at Bangalore about a decade ago, we had Murli Manohar Joshi who was HRD Minister and at that time he unilaterally slashed the fees of IIMs to ensure every IIM comes back to the HRD Ministry and begs for the resources and thereby they will be able to exercise the control over them and change whatever the curriculum they wanted to bring."
He alleged they have "scant respect for the autonomy" of higher education institutions.
Gowda said, "Congress Party urges the Prime Minister to step in and take appropriate action to put the HRD Ministry back on track for the sake of our youth and India's future."
To a question as to how the Prime Minister should step in, he said, if Modi has done all that what media says about him then, "he is eminently capable of stepping in again and remedying what is going on, what is messing up India's higher education sector."