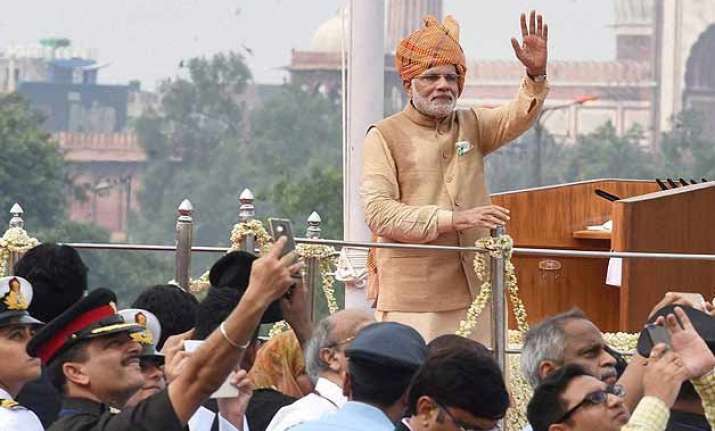 New Delhi: Prime Minister Narendra Modi on Saturday vowed to end corruption, exhorted India to "start up, stand up", didn't announce the eagerly-awaited One Rank One Pension scheme and gave a complete miss to foreign policy.
Addressing the nation from the ramparts of the 17th century Red Fort, Modi said in his second Independence Day address that his government was determined to build a new India, including providing electricity to 18,500 power-less villages in the next 1,000 days.
Dressed in a cream kurta pyjama, beige jacket and mustard headgear, Modi said his 'Swachh Bharat' campaign was the biggest success of his BJP-led government which took office in May last year.
He, however, disappointed lakhs of ex-service personnel who were awaiting for a concrete announcement on the One-Rank-One-Pension (OROP) scheme. He said the government had accepted in principle the scheme, but not give any clear roadmap for its adoption, prompting protesting ex-servicemen in Jantar Mantar to cry out "shame, shame".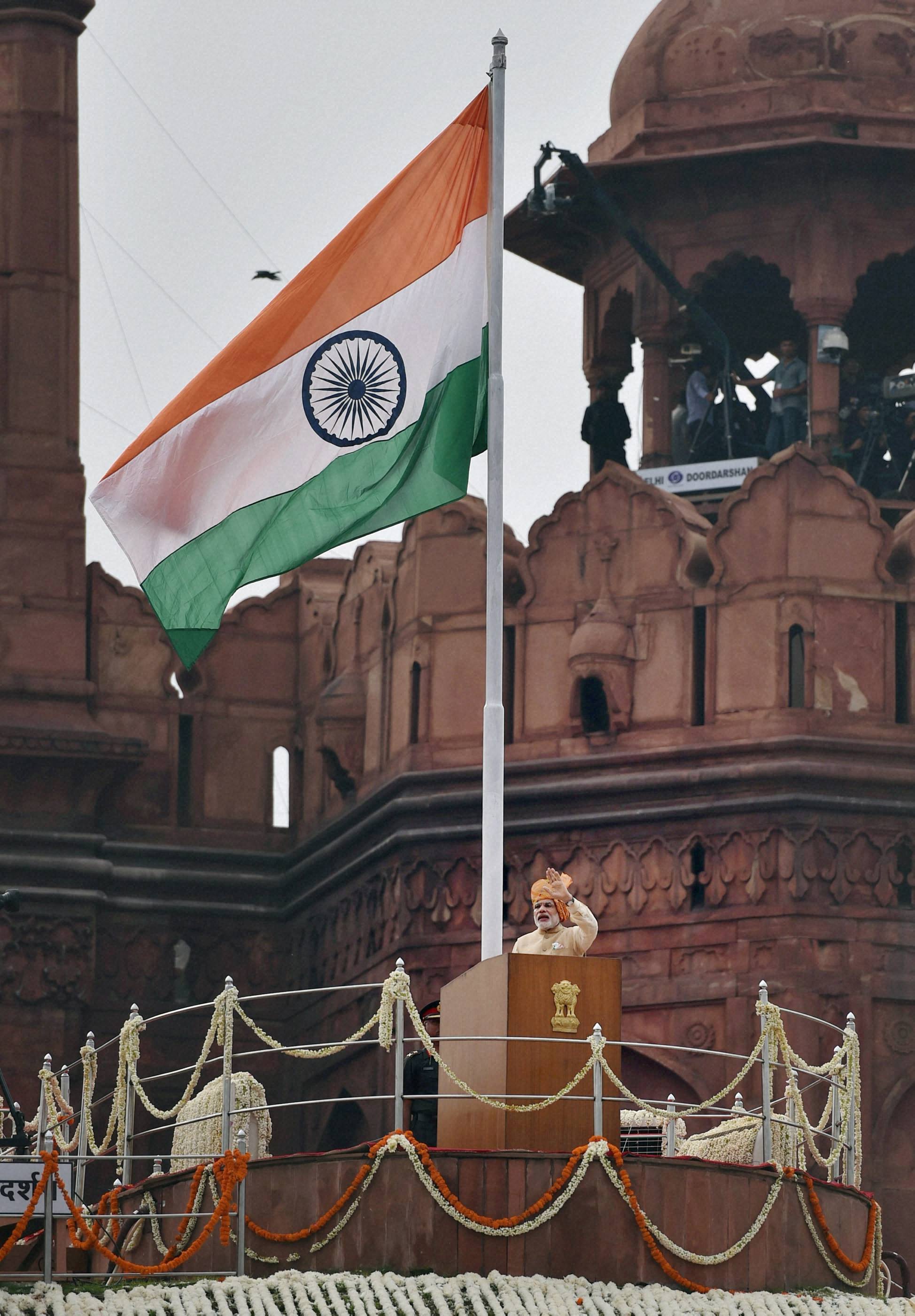 In a first for August 15, the prime minister did not touch upon foreign policy - despite his numerous trips - and focussed wholly on domestic issues. There was no mention of India's neighbours, even Pakistan, in Modi's speech that began at 7.30 a.m. and ended just before 9 a.m..
The miss is all the more stark as Modi had met Pakistan Prime Minister Nawaz Sharif just over a month ago in Ufa, Russia - in a landmark move to ease tensions between the two neighbours.
Barely hours before Modi spoke, guns boomed at India's border with Pakistan. The Pakistan Army used mortars and automatic weapons on the Line of Control in Jammu and Kashmir.
Military spokesman Colonel Manish Mehta told IANS in Jammu that the Pakistani army "resorted to unprovoked shelling and firing at our positions" at 7.30 a.m. in Poonch district."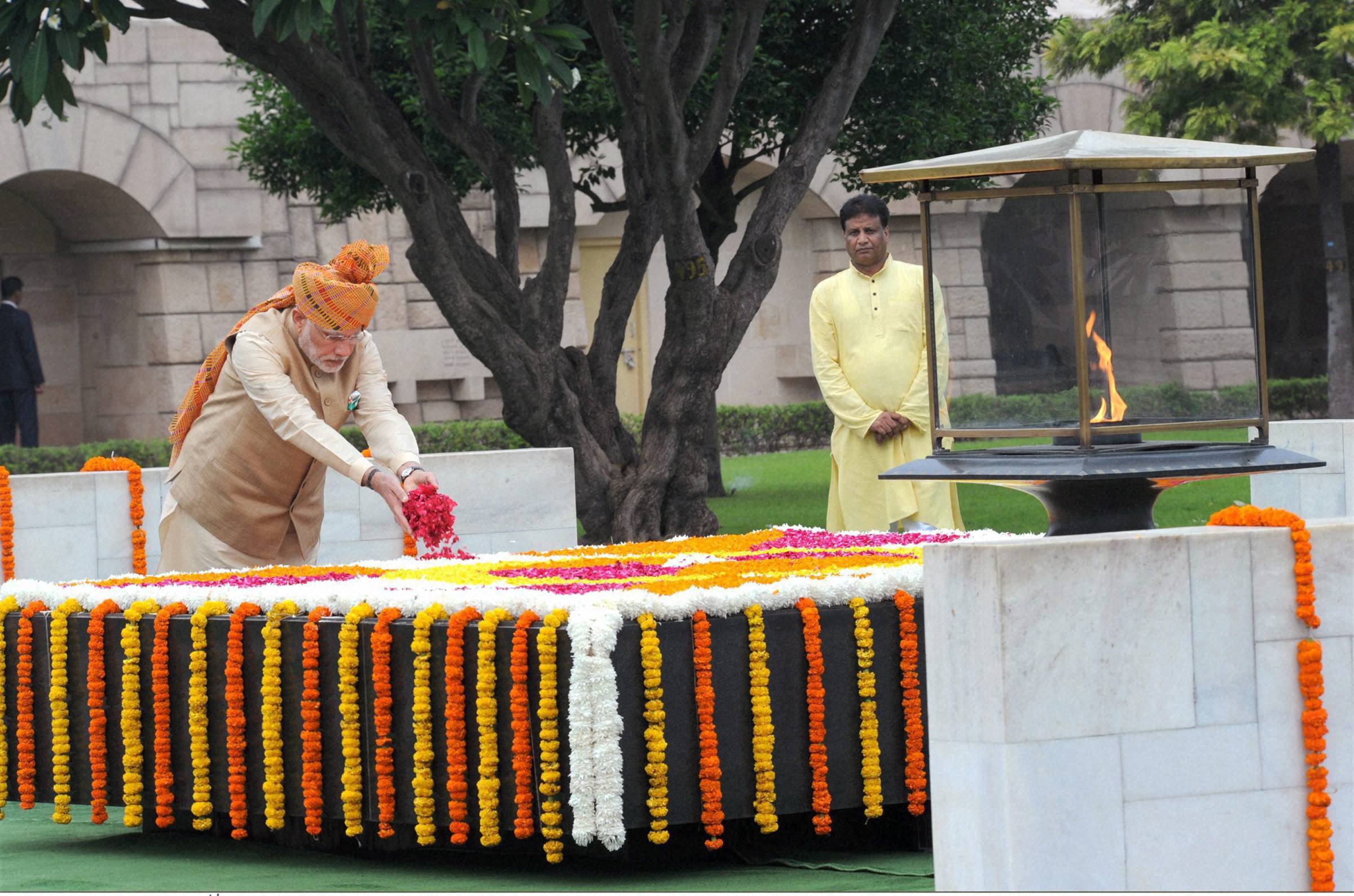 Prime Minister Narendra Modi paying homage at the Samadhi of Mahatma Gandhi, at Rajghat on the occasion of 69th Independence Day in Delhi on Saturday.
However, Pakistan Prime Minister Nawaz Sharif greeted India and said "good neighbourly relations" will benefit both New Delhi and Islamabad.
"We in Pakistan sincerely hope to settle all our bilateral issues through a sustained and comprehensive dialogue and usher in a new era of mutual trust and cooperation," he said in a message.
During his one hour, 23 minute long speech, Modi made it clear that there was no place for casteism and communalism in India.