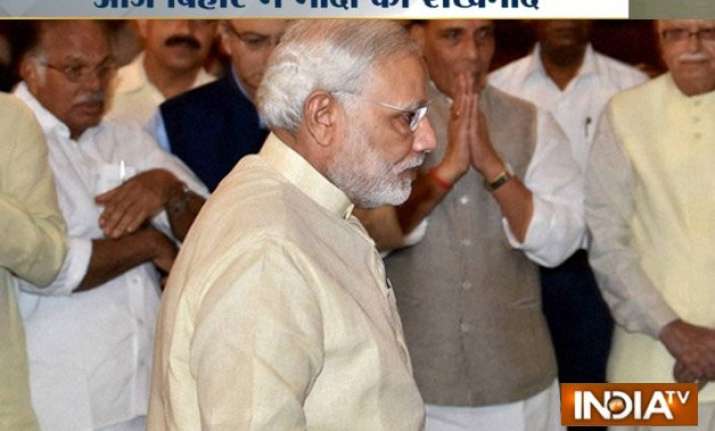 Patna: Intelligence agencies have warned of a possible human bomb attack on the lines of former prime minister Rajiv Gandhi's assassination during Prime Minister Narendra Modi's visit to Bihar on Saturday.
Four people, including three alleged Maoists, were detained in Muzaffarpur for suspicious activities ahead of Modi's rally. "One of the suspects is from Jammu and Kashmir. He was detained in Patna's S.K. Puri area on Saturday morning," an officer said.
The Prime Minister is scheduled to visit Patna today to launch Pandit Deen Dayal Upadhayay Rashtriya Gramin Joyti Yojna and inaugurate the new campus of IIT-Patna.
He will also hold a rally in Muzaffarpur to kick start BJP-led NDA's poll campaign for the upcoming assembly poll in the state.
"The Intelligence Bureau (IB) has alerted Bihar government and the Special Protection Group officials camping in the state to be on high alert for a possible human bomb attack against Modi during his visit to Patna and Muzaffarpur on Saturday," a top police official said.
Stating that the attack could be similar to Rajiv Gandhi's assassination by the LTTE in 1991, the IB alert has specified that well trained women Maoists may be used as a human bomb to target the prime minister during the visit, the official added.
"IB has alerted of possible attack on Modi during his visit to Bihar. The suicide bomber may target Modi disguised as a mediaperson, police official, electrician, an organiser, caterer or labourer," officials said.
Meanwhile, an official from state Home department said that the authorities are on high alert and would ensure unprecedented security.
"The Bihar government will go for unprecedented security cover during Modi's rally in Muzaffarpur," the official said.
Though Modi's security is looked after by the Special Protection Group (SPG), the Bihar government has directed senior officials to make special security arrangements for his rally, the official said.
Meanwhile, Union Agriculture Minister Radha Mohan Singh said that he was supervising preparations for the PM's Muzaffarpur rally and that the turnout at the public meet would be a historic one.
"The Prime Minister's rally at Chakkar Maidan will be bigger than any other rallies held in Muzaffarpur since Independence. A huge turnout was expected at the event," he said.
The PM's rally would also showcase unity of the NDA in the run up to the Bihar Assembly polls, he said, adding that all top leaders of BJP and coalition partners like Ramvilas Paswan (LJP), Upendra Kushwaha (RLSP) and Jitan Ram Manjhi (HAM, Secular) would attend the event with leaders and workers of their respective parties.
Today's visit will also be the Prime Minister's first official visit to the state after storming to power in May last year.
In October 2013, Modi's rally at Gandhi Maidan in Patna was rocked by serial bomb blasts leaving five people dead and nearly 100 injured.